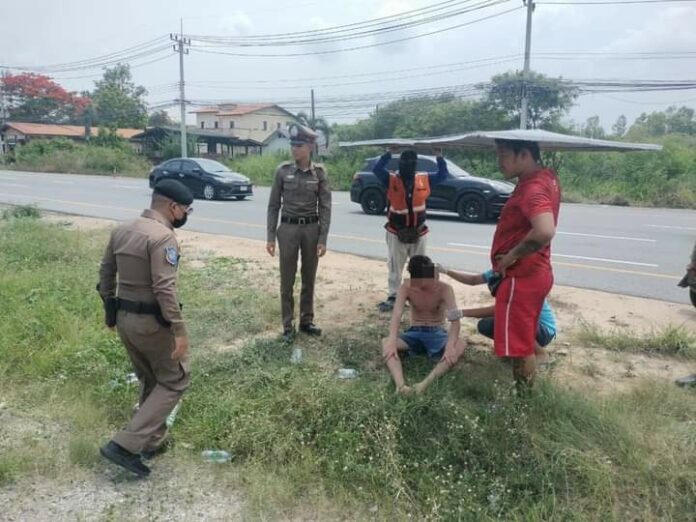 Na Jomtien, Banglamung
A shirtless, shoeless, and seemingly down-on-his-luck Russian man was aided by several good Samaritans and Na Jomtien Tourist Police today, May 27th, 2023.
The man was found at the intersection of Sukhumvit and Motorway 7 near the Ambassador School around noon today. He had no shirt, no identification or money, and no shoes and appeared to be trying to cause himself self-harm. He was also acting erratic and talking in circles.
Good Samaritans nearby including motorbike taxi drivers helped provide the man temporary shelter as he appeared to be suffering from the sweltering heat while they called authorities for assistance.
Na Jomtien Tourist Police arrived and with the assistance of a translator who spoke Russian helped calm the man down and brought him to the police station for water and to cool down from his time in the heat.
It was not clear if the man was under the influence of alcohol or other substances but as he had calmed down and cooperated with police and not committed any crimes they decided to let him go once he was relaxed and thanked police for their assistance, blaming the heat for his erratic behavior.
Na Jomtien Tourist Police stated they were always happy to help those in trouble and wished the man good luck. Photos credit Pattaya Tourist Police.