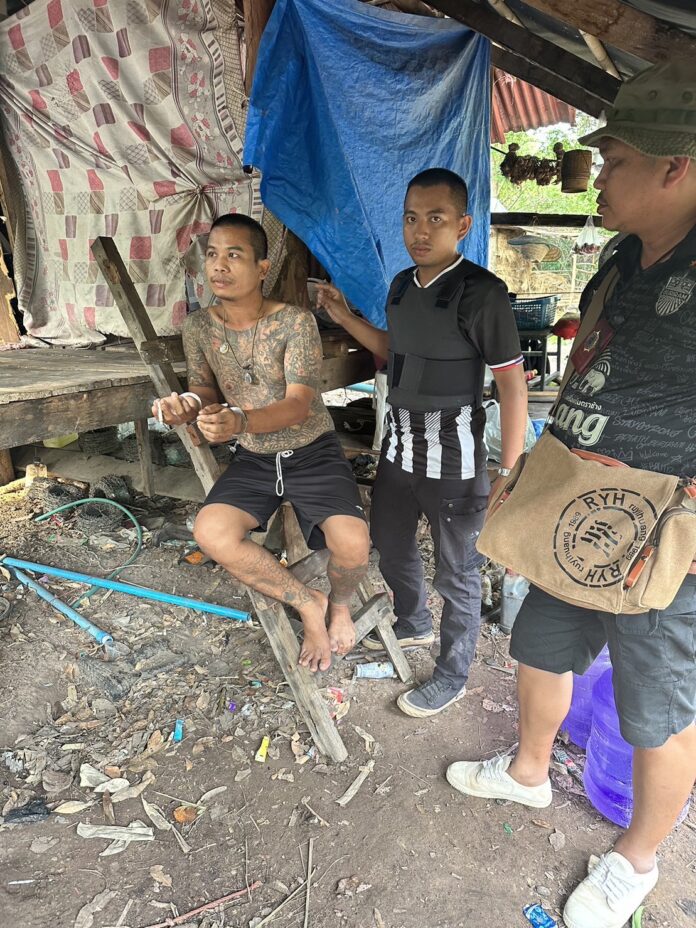 Kut Bak, Sakon Nakhon-
The prime suspect who was wanted in the vicious murder of a young Pattaya woman was arrested in a rural village near the Kalasin province in Sakon Nakhon in northeastern Thailand and is being transported to Pattaya for investigation.
The murder of 32-year-old Rattana Thammarak, who was found brutally stabbed almost a dozen times at an apartment complex in Central Pattaya around the Soi Buakhao area last week, shocked Pattaya residents and law enforcement alike.
She had been stabbed in her face, neck, shoulder, and upper body at least ten times and left deceased in her apartment for several days until a cleaner and the landlord of the apartment complex noticed an unusual smell and gained access to the apartment, finding the disturbing scene.
Pattaya police identified several men who had visited the victim on the day of the murder but their main attention was directed to Mr. Watcharaphon Ansongkram or Kik, nicknamed "Kik Kilo 10", 39-years-old, who had been the last person seen alive on CCTV and with the victim.
Kik had fled his normal residence in the Sattahip area but law enforcement in Kalasin in partnership with the Pattaya police managed to track his cell phone signal to the Kalasin border.
Kik was located by Pol.Lt.Gen.Suwan. Chiena Winthawat, Chief of Police, Kalasin Province in coordination with the Chonburi Provincial Investigation Team in the rural province and village of Kut Bak which lies at the border of Kalasin. He was staying in a wooden hut in a dilapidated area and calmly smoked a cigarette after being arrested by law enforcement under Pattaya provincial court arrest warrant 230/2566 dated May 21st, 2023.
Kik did not speak to investigators or immediately enter a plea and was being transported to Pattaya overnight. He is being charged with assaulting another person until death.
TPN media will give further updates on this story as they become available.