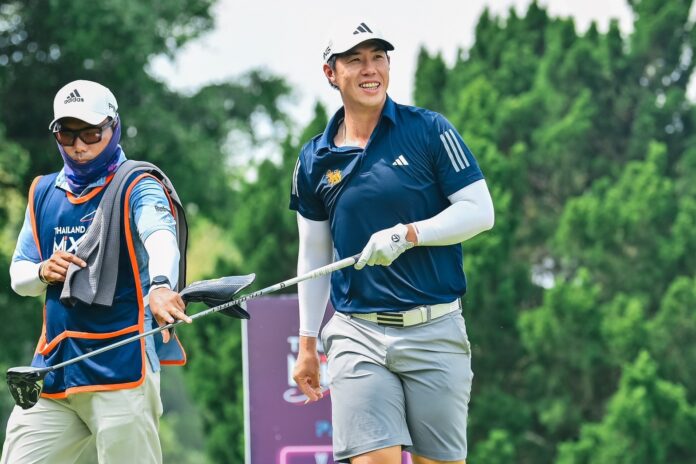 Big-hitting Jakraphan Premsirigorn produced a remarkable round at the Bt3.45 million Thailand Mixed Stableford Challenge, generating nine birdies and gaining an 8-point lead over Newport Laparojkit at the par-73 St. Andrews 2000 in Rayong on Wednesday.
The winner of February's Thailand Mixed Q-School impressively recorded four birdies on the back nine and added five more on the front, earning a total of 18 points and finishing at 31 heading into the weekend rounds at the par-73 course.
"I was playing exceptionally well by shooting nine birdies without a bogey. Everything was perfect," said the Thai player who has Hong Kog heritage.
"My putting was incredible. I strategically positioned my shots on the greens, giving myself numerous scoring opportunities. I was able to hit 17 greens in regulation. A particularly memorable moment was when I made a remarkable 14-yard putt on the third hole, which really got me into the groove," added Jakrapha who suffered a lower back injury while playing the Thailand Mixed Cup (stroke-play format) at this venue last week
"I was a bit concerned and had to approach last week's play with caution. However, I'm glad to say that things are improving after undergoing therapy and incorporating stretching into my routine," added Jakraphan, whose notable win came on the All Thailand Golf Tour in Khon Kaen back in 2017.
On his plan for the weekend rounds, he said, "I will focus on executing my game without worrying about the result or winning. I've learned from last week's errors, and I won't play too aggressively. My main goal this week is to minimize the number of bogeys and maintain consistency."
Newport Laparojkit, with 8 birdies and 4 bogeys, accumulated 12 points in the second round, bringing his total to 23 and placing him 8 points behind the current leader.
"I made a lot of birdies but had some bogeys as well. Nonetheless, I'm happy to have hit under par every day," said the 25-year-old golfer who graduated from San Diego State University before returning to Thailand during the COVID-19 period in 2020.
Speaking of his game plan, he said, "I plan to put myself in a good position and go for birdies. You don't necessarily have to hit the ball very far. The key is to find the fairways and then hit great approach shots to create birdie opportunities.
"It's not always necessary to attack the pin positions. I don't want to put too much pressure on myself by having high expectations. I just hope to play the best golf I can," added the Newport-born who has one title under his belt after winning on the Thai PGA Tour in Chiang Mai last year. His best finish on the Thailand Mixed was at fifth last week here at St. Andrews 200.
Trailing just one point behind were the duo of Tawan Phongphun and Justin Raphael Quiban of the Philippines. Tawan produced 5 points, while Justin scored 18 points, contributing to their individual totals of 22 points each.
Meanwhile, the first-round leader Chonjarern Baramithanaseth earned just two points, bringing his total to 20 as he enters the third round.
In contrast to last week's stroke play event, the Stableford format assigns points to players based on the number of strokes taken on each hole. Under this system, players earn points for birdies (2 per a birdie) and eagles (5 per eagle), while bogeys (-1 per bogey) and double bogeys (-3 per double bogey or more) deduct points from their totals. The player with the highest points in the four-day tournament will walk away with the title.
Live coverage of the tournament can be viewed on TrustGolf Facebook Fanpage and TrustGolf Youtube Channel from 9am onwards.
TrustGolf, an indoor training center with cutting-edge technology, has been spearheading the organization of the Thailand Mixed for three consecutive years, providing a platform for male and female players to hone their skills. The tour is supported by the Sports Authority of Thailand, National Sports Development Fun, Tourism Authority of Thailand, Tourism Authority of Rayong, Bangkok Bank, B. Grimm Company, Bond Holdings, AIS Airplay, Bridgestone, Trust Pharmacy, Trust Live Streaming, Adidas Golf, Balance Golf Nutrition, Leborn, LMV, Udommpanich, St. Andrews 2000 and Barcelona Valley.