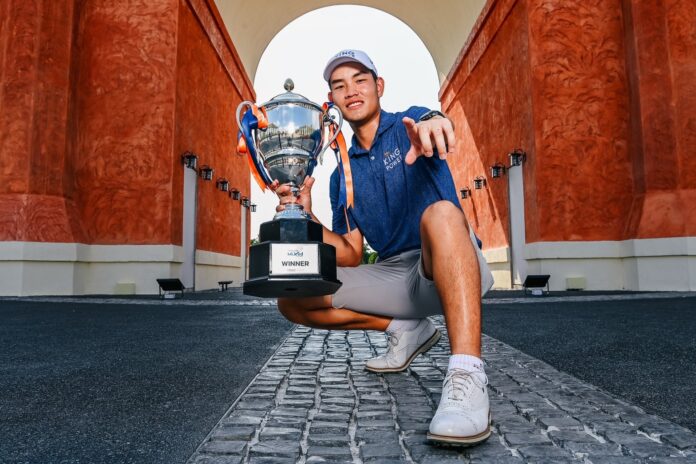 Young-gun Denwit Boriboonsub claimed his third career title following a play-off victory over Aunchisa Utama during the final round of the Bt3.45 million Thailand Mixed Cup presented by TrustGolf which was reduced to 54 holes at the par-73 St. Andrews 2000 in Rayong on Sunday.
After completing his regular round with a score of 67 on 10 under-par-209, Denwit had retired to his bed when he received a call to get ready for an extra duel with Aunchisa, a 2-time Thai LPGA Tour winner. Aunchisa had birdied the 18th hole for a score of 71 and a total 209 to force the play-off.
In the additional battle, Aunchisa missed her birdie attempt on the 18th hole, allowing Denwit to comfortably sink his birdie putt and seal off the victory.
This is Denwit's third professional title to date, with his previous two victories occurring on the All Thailand Golf Tour in Chiang Mai in 2021 and in Nakhon Pathom last year.
"I was quite confident going into the play-off as I had always won all nine previous ones. Even though I was a bit nervous, I believed in my record, so I knew my chance was quite high," said the talented teenager who carded seven birdies against a bogey in the final round.
Reflecting on his regular round, Denwit added, "Overall, it was a good round, although I did finish with a bogey and a par. I know I could have done better, but I'm still happy with my progress. After missing so many cuts at the start of the year, I feel like I'm heading in the right direction."
Denwit's victory earned him the winner's cheque of Bt517,500, while Aunchisa had to settle for the runner-up's prize money of Bt345,000.
Looking ahead to next week's tournament, which will be played in the Stableford format, the player added, "I'm optimistic about my chances. Based on the number of birdies I had in the last three days, I think the Stableford format will suit my style of play," added the 19-year-old player from Chonburi.
Rattanon Wannasrichan, the overnight leader, looked set to clinch victory with an 11 under score after 16 holes, but a poor tee shot on the 17th led to a double bogey. He ultimately had to settle for 74 and a total nine under-par-210 for a tied third position with South Korean Wonjun Lee, who finished with a 68. 
Due to inclement weather conditions that caused scheduling delays, the tournament was shortened to three rounds of 54 holes. The players will now enjoy a day of rest before resuming their actions on Tuesday in the Thailand Mixed Stableford Challenge, which will take place at Saint Andrews 2000 in Rayong until May 19.
TrustGolf, an indoor training center with cutting-edge technology, has been spearheading the organization of the Thailand Mixed for three consecutive years, providing a platform for male and female players to hone their skills. The tour is supported by the Sports Authority of Thailand, National Sports Development Fun, Tourism Authority of Thailand, Tourism Authority of Rayong, Bangkok Bank, B. Grimm Company, Bond Holdings, AIS Airplay, Bridgestone Golf, Trust Pharmacy, Trust Live Streaming, Adidas Golf, Balance Golf Nutrition, Leborn, LMV, Udommpanich, St.Andrews 2000 and Barcelona Valley.
…………………………………………………
About TrustGolf
TrustGolf, an indoor training center with advanced technology, has been instrumental in supporting international golf tournaments, including the 'TrustGolf Women Scottish Open', a co-sanctioned event between the Ladies European Tour and the LPGA Tour from 2021-2025. The event garnered significant interest from leading golfers worldwide and helped promote a positive image for Thailand. Moreover, TrustGolf provided Thai female players with the opportunity to compete in this prestigious European event.
In 2023, TrustGolf is set to host five Thailand Mixed series, offering a total prize money of Bt17 million. Additionally, the TrustGolf Tour will organize the TrustGolf Asian Mixed events, tri-sanctioned by the Asian Tour, Ladies European Tour, and TrustGolf Tour, with a total prize money of US$1.5 million. The TrustGolf Link Series will also serve as the Access Series for the Ladies European Tour and include the TrustGolf Women Scottish Open, with a prize money of US$2 million."