Former Thailand Open victor Rattanon Wannasrichan carded his second straight 68 to take a two-stroke lead after round two of the Bt3.45 million Thailand Mixed Cup presented by TrustGolf at the par-73 St. Andrews 2000 in Rayong on Saturday.
The 27-year-old player shot eight birdies against a double bogey on the 17th hole and a bogey on No 11 to complete his 36 holes on 10 under-par-136, two in front of Chonjarern Baramithanaseth, Tawan Phongphun and Aunchisa Utama. 
After a rain delay that caused only half of the field to complete their rounds on Friday, Rattanon and the remaining players took their turns 24 hours later. 
Rattanon had a roller-coaster round which featured three straight birdies between No 12 and 14 to go up at 11 under before committing a double on No 17 but ended with a birdie on No 18.
"Even I made some mistakes and could have shot a lower score, I still achieved my target by hitting a 68. At least, I hit more good shots than bad ones," said the Chanthaburi-born whose victory in the 2017 Thailand Open, an Asian Tour event, still remains his biggest win to date.
Since winning the Thai PGA Tour in 2020, Rattanon has yet to hoist the trophy again. His recent best attempt was a runner-up position in the 2022 Singapore International where he lost the play-off to South Korean rising star Tom Kim.
"I always want to win every tournament that I enter. But I don't want to place high hopes on myself as that will put me under pressure and prevent me from playing at my level. What I need to do is to stick to the game plan by hitting the fairways and aim for the right spots on the greens," said Rattanon who won three times on the All Thailand Golf Tour.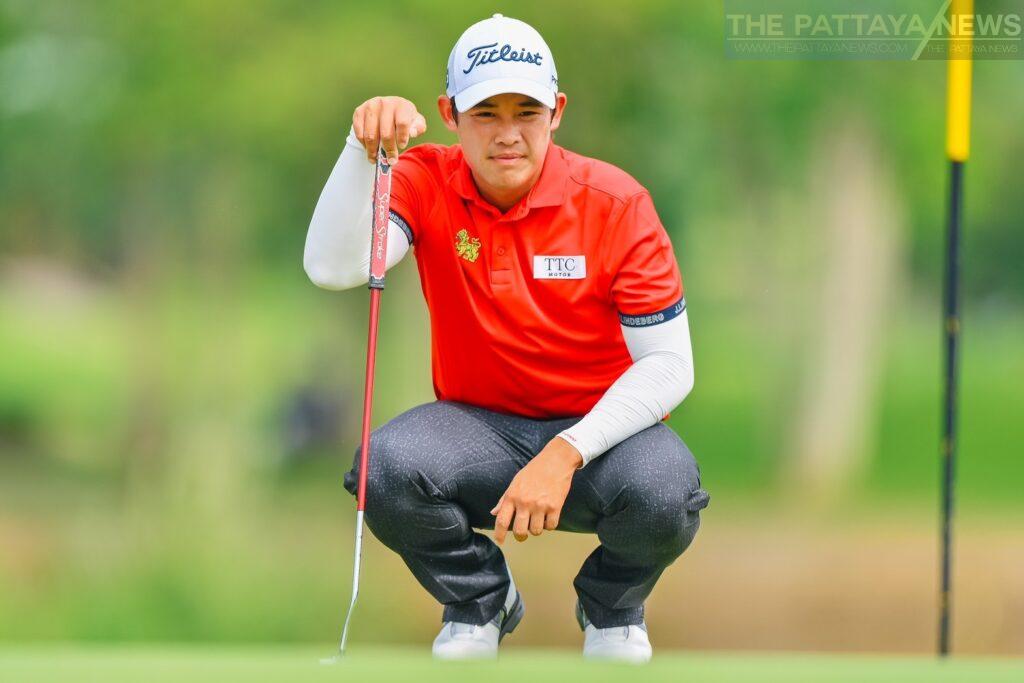 Chonjarern, a 22-year-old from Nakhon Sawan , fired a low round of 65, generating four birdies at the front nine and four more after the turn without a bogey. He sat two shots back on 8 under-par-138 alongside Tawan, who carded a 70. Aunchisa had already completed her round on Friday.
Phannarai Meesom-us was one shot behind in fifth place, shooting seven birdies and one eagle on No. 13 against two bogeys on No. 5 and 17 for a second round of 66 and a total of 139. First-round leader Kamalas Namuangruk carded an even par 73 for a total of 140, four shots off the pace.
As a consequence of the inclement weather conditions, which caused a delay in the schedule, the organizers have opted to curtail the Thailand Mixed Cup to a three-round tournament, spanning 54 holes in total. 
The final round coverage can be seen live on TrustGolf's Facebook Fanpage and YouTube channel from 9 a.m. onwards.
TrustGolf, an indoor training center with cutting-edge technology, has been spearheading the organization of the Thailand Mixed for three consecutive years, providing a platform for male and female players to hone their skills. The tour is supported by the Sports Authority of Thailand, National Sports Development Fun, Tourism Authority of Thailand, Tourism Authority of Rayong, Bangkok Bank, B. Grimm Company, Bond Holdings, AIS Airplay, Bridgestone Golf, Trust Pharmacy, Trust Live Streaming, Adidas Golf, Balance Golf Nutrition, Leborn, LMV, Udommpanich, St.Andrews 2000 and Barcelona Valley.
……………………………………………………….
About TrustGolf
TrustGolf, an indoor training center with advanced technology, has been instrumental in supporting international golf tournaments, including the 'TrustGolf Women Scottish Open', a co-sanctioned event between the Ladies European Tour and the LPGA Tour from 2021-2025. The event garnered significant interest from leading golfers worldwide and helped promote a positive image for Thailand. Moreover, TrustGolf provided Thai female players with the opportunity to compete in this prestigious European event.
In 2023, TrustGolf is set to host five Thailand Mixed series, offering a total prize money of Bt17 million. Additionally, the TrustGolf Tour will organize the TrustGolf Asian Mixed events, tri-sanctioned by the Asian Tour, Ladies European Tour, and TrustGolf Tour, with a total prize money of US$1.5 million. The TrustGolf Link Series will also serve as the Access Series for the Ladies European Tour and include the TrustGolf Women Scottish Open, with a prize money of US$2 million."