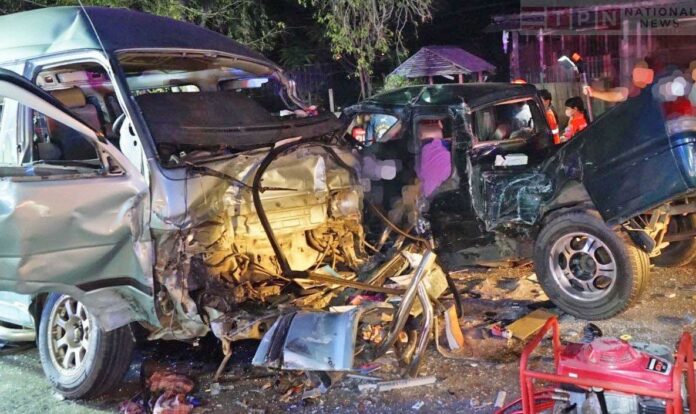 Chiang Rai, Northern Thailand:
Two people have been pronounced dead while 13 people have sustained injuries after a pickup truck collided with a minivan in the Terng district.
The Terng Police were notified of the incident at 7:20 P.M. on April 18th, 2023, on No. 1020 (Chiang Rai Terng) Road in the Baan Pong Chang in Chieng Kean sub-district. Emergency responders arrived at the scene to find several damaged minivans and pickup trucks.
A body of a 14-year-old girl was found dead at the scene, whose name was withheld due to her age. An unidentified pickup truck driver, aged around 60, was pronounced dead at a local hospital following the accident.
Thirteen people sustained various injuries and were taken to a nearby hospital.
Witnesses told relevant police that the pickup truck driver lost control before colliding with a minivan in the opposite lane.
However the Terng Police are continuing their investigation to find the exact cause of the accident.
There have been a number of major accidents involving minivans in Thailand recently such as this one in Nakhon Si Thammarat.
Four foreign tourists were also injured in a recent minivan accident in Phuket.
Also, seven Russian tourists were injured in a minivan accident that the driver blamed on one of the passengers screaming.