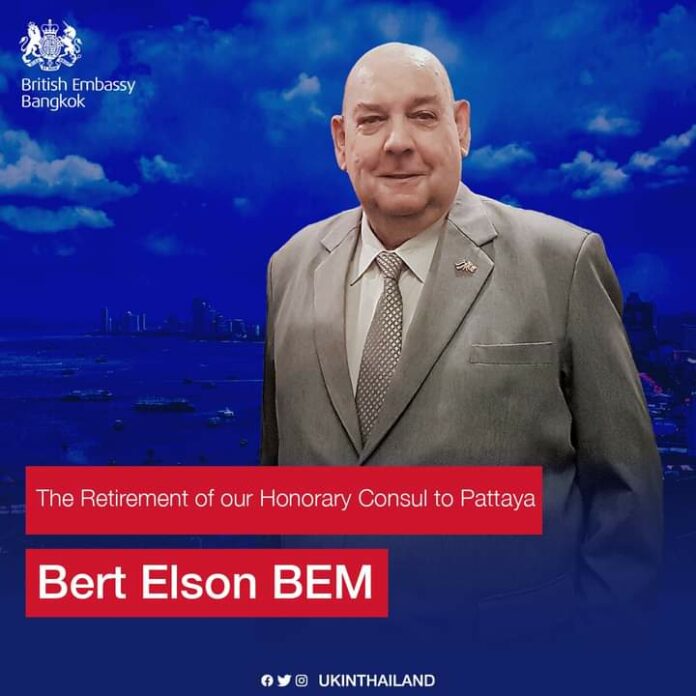 The following message is from the UK Embassy on their social media pages:
It is with great gratitude that we announce the retirement of our Honorary Consul to Pattaya, Bert Elson BEM.
Bert has been serving as Honorary Consul in Pattaya since 2013 and has provided exceptional service to British nationals in Pattaya during his tenure. He has worked tirelessly to ensure the safety and well-being of British citizens in Pattaya and has been a key point of contact for the Consular team in Bangkok.
In addition to his invaluable contributions to the Consular team, Bert has also been a dedicated member of the British community in Pattaya. His work with the Royal British Legion has been truly outstanding, and his efforts have made a significant impact on the lives of many British expatriates in the area.
Bert's tireless commitment to the British community and his exceptional service to British nationals in Pattaya will be deeply missed. We extend our heartfelt thanks to Bert for his outstanding contributions and wish him all the best in his well-deserved retirement.
We would also like to take this opportunity to announce that the application process for the Honorary Consul role will be open soon. We encourage interested and qualified individuals to apply and help continue the important work of serving the British community in Pattaya.
End of UK Embassy message, Pattaya News Comments below:
The Pattaya News wishes Bert a happy and safe retirement. He has assisted our team with numerous stories and British nationals in trouble in Pattaya and his professionalism and friendliness will be missed but he now has retirement to enjoy. Have a great retirement Bert!