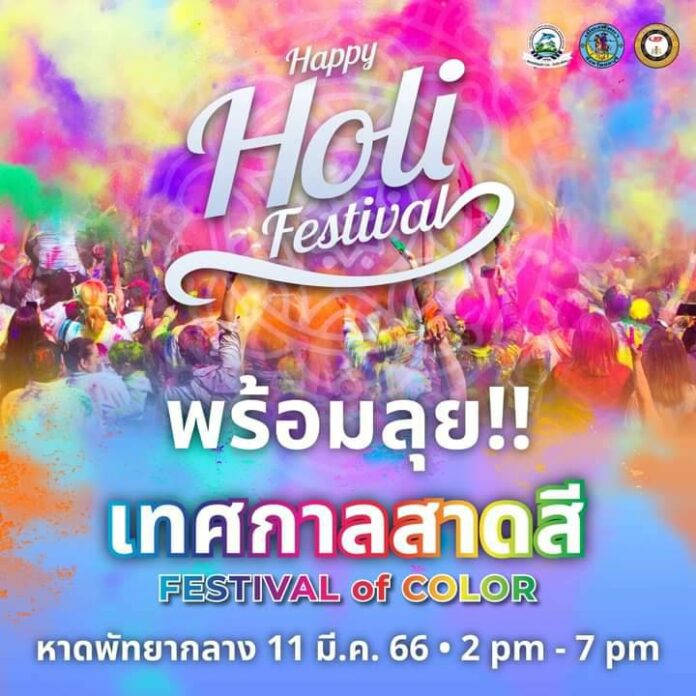 Pattaya —
Pattaya City along with the Thai Indian Pattaya Business Association (TIPBA) and the Indian Community Pattaya Association (ICP) is inviting everyone to celebrate the festival of Holi in Pattaya at the Central Pattaya Beach Road intersection from 12 PM until 7 PM on March 11th.
Holi, or the festival of colors, is an important Hindu festival that commemorates the arrival of spring, new beginnings, and love. Although some families participate in religious observances, for many, Holi is a time to enjoy themselves by dancing, singing, and throwing colored powder and water at other event attendees.
Thanks to the generosity of several sponsors, this year's Holi festival will be free of charge for all attendees.
Participants can indulge in a variety of delectable food and snacks, which will be provided free of cost.
Additionally, each participant will receive pouches of soluble color powder, which will allow everyone to join in the playful color-throwing activities with others at absolutely no extra cost.
The purpose of hosting the Holi festival is to stir up tourism and gives locals and tourists in Pattaya a chance to enjoy a vibrant festival that is celebrated not only by Indians but also by many nationalities regardless of faiths in major cities around the globe.
Again, the Festival of Colors will be hosted at the Central Pattaya Beach Road intersection from 12 PM to 7 PM on March 11th. Don't forget to wear an old or less favorite shirt before heading to the festival because things are going to get messy!
Learn more about the schedule here.
-=-=-=-=-=-=-=–=-=-=-=-=-=-=-=
Want to advertise with us or inquire about promoting your business, event, charity, or sporting event? E-mail us at Sales@ThePattayanews.com