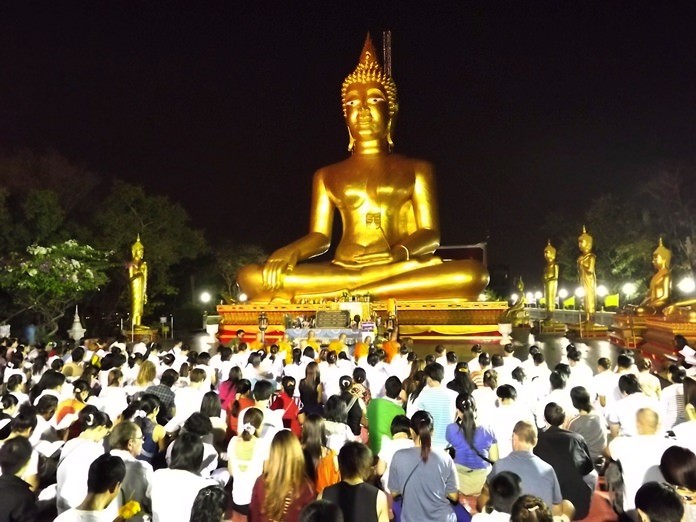 National —
Makha Bucha is an important religious day for Thai Buddhists. This year, it falls on next Monday, March 6th, which will be marked with many religious candle-lit ceremonies and gatherings. For those who do not follow Buddhist traditions, however, Makha Bucha is still recognized as a significant day, but mainly for its prohibition of alcohol sales.
The second most important Buddhist holiday in Thailand falls on the full moon day of the third lunar month, which usually falls in February or March. The day is an occasion for Thai Buddhists to pay homage to the Buddha and his teachings.
The significance of Makha Bucha dates back to the time of the Buddha, more than 2,500 years ago. According to Buddhist scriptures, on this day, 1,250 of the Buddha's disciples gathered spontaneously to listen to a sermon by the Buddha.
The event was notable because the disciples had not been summoned and they came from different places without prior agreement. It is believed that this gathering of the Buddha's disciples was a sign of their purity and dedication to the teachings of the Buddha.
Alcohol Sale Ban and Closure of Places
While Makha Bucha Day may not hold the same religious significance for non-Buddhists, it is nonetheless an important aspect of Thai culture, and everyone staying in the kingdom should respect it accordingly.
Next Monday, it is expected that most government offices will be closed as well as potentially other private businesses to pay respect for the religious observance. Additionally, Makha Bucha is a total alcohol sales ban day in Thailand effective nationwide, which includes supermarkets, convenience stores, hotels, restaurants that sell alcohol, and of course all types of entertainment venues.
The closure of places serves as a reminder to Thai people that Makha Bucha is a day of introspection and reflection. It is an opportunity for individuals to contemplate their actions and behaviors and make a conscious effort to live according to the principles of Buddhism, which include:
Don't harm other living beings.
Don't steal.
Don't engage in sexual promiscuity.
Don't gossip or lie.
Don't drink alcohol.
Although in certain areas, businesses will remain open to customers, these places are usually subject to strict regulations and guidelines, which certainly incorporates a ban on serving alcohol or any form of entertainment.
For non-Buddhists, they can easily participate in this event by avoiding alcoholic drinks and entertainment, visiting a local temple, engaging in charitable activities, or comfortably practicing mindfulness and self-reflection.
-=-=-=-=-=-=-=–=-=-=-=-=-=-=-=
Don't forget to subscribe to our newsletter and get all our news delivered to you in one spam-free daily e-mail Click here! OR, enter your e-mail below!