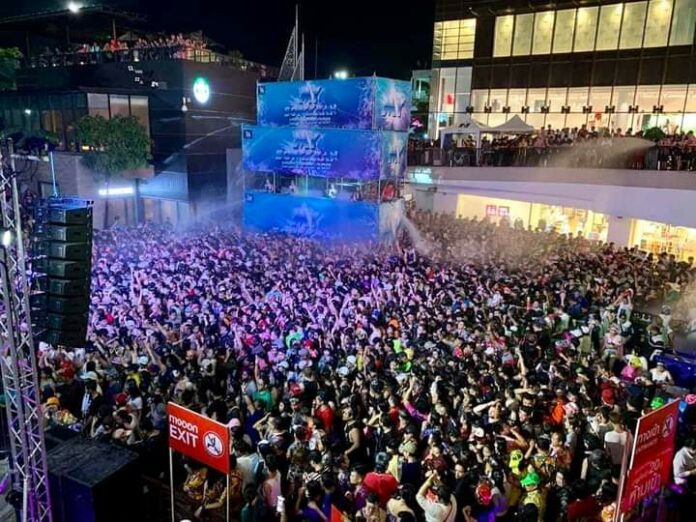 Pattaya, Thailand –
Pattaya's biggest and wettest party officially returns for the first time in four years due to Covid-19 pandemic restrictions.
Songkran, which in one form or another will likely last a bit over a week in Pattaya, will culminate as it usually did, before Covid, with Wan Lai, or the "Big Day" on April 19th, 2023. This is, without a doubt, Pattaya's biggest and wettest party but also polarizing especially to many expats as hundreds of thousands of domestic and foreign tourists convene on Pattaya.
Songkran, the Thai New Year, also known as the water festival, has not been held in full since 2019 due to pandemic restrictions other than traditional and religious activities. While a huge relief to many of our readers who dislike the water and crowds the tourism industry has overall yearned for the return of the festival.
This year, that wish is granted as Central Pattaya is one of the first to announce a major Songkran Day party promising major musical artists and events. Of course, Rolling Loud, the world's biggest hip hop and rap festival, will also be in town from April 13th-15th, the official holiday dates in Thailand. This will see major artists like Cardi B, Travis Scott, Chris Brown, and dozens more in the Pattaya area.
Pattaya celebrates Songkran later than the rest of the country, mainly to boost tourism. Due to the long pause, tourism analysts predict possibly the biggest Songkran ever in terms of crowds. This will, of course, cause many expats to flee Pattaya in what is often called by local residents as Silly Season.
See you in April for those coming and for those who aren't fans, it may be time to look for a quick holiday out of the area.