Sri Racha —
Two Thai people were injured when their motorbike rear-ended a pickup on Sukhumvit Road. The motorbike along with its rider and pillion rider plunged into a roadside irrigation ditch.
Sri Racha rescue services rushed to an accident scene near a gas station in Sri Racha district, Chonburi to aid two road traffic victims yesterday, February 23rd. The rescuers found a grey GPX motorbike and two Thai victims lying in a dry irrigation ditch.
The two Thais (a man and a woman) refused to provide their names although they suffered injuries. The man's ring finger was severely injured while the woman suffered a broken right leg.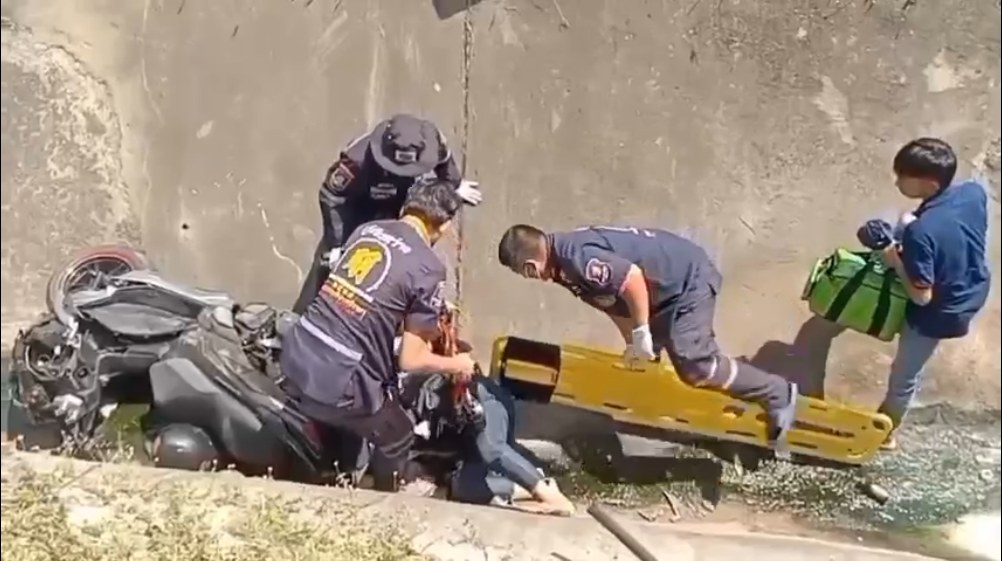 The rescuers administered first aid to the victims and transported them to a nearby hospital.
Also found at the scene was a black Ford ranger parked on the road. The driver, Mr. Amnat Kuljang, 47, told local media that he was heading to Mueang Chonburi from Pattaya. He opened a turn signal to enter a gas station and noticed a motorbike darting at him from behind at high speed.
Mr. Amnat claimed he had already tried to avoid the motorbike by turning right, but the motorbike could not brake and rear-ended him before falling into a ditch.
The victims are receiving medical attention at a hospital. Police are investigating the incident scene and reviewing CCTV footage to determine the exact cause of the accident.
-=-=-=-=-=-=-=–=-=-=-=-=-=-=-=
Need legal advice or a lawyer? We can help. Click here.
See more information about listing a property with us by clicking here.