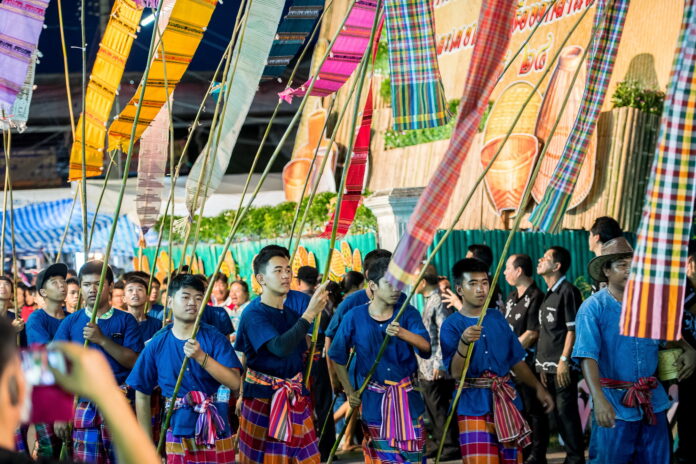 PRESS RELEASE:
The chosen festivals are distinctive to their location, and are examples of the many unique and fascinating festivals that take place throughout Thailand each year.
The Ministry of Culture has identified 16 distinctive festivals from around Thailand to be promoted on the international stage in line with the government's Bio-Circular-Green economic model and the promotion of Thailand's 5F soft-power foundations – Food, Film, Festival, Fight and Fashion.
The 16 festivals are distinctive to their location, and are examples of the many unique and fascinating festivals that take place throughout Thailand each year, including world-famous celebrations like Songkran (the traditional Thai New Year) and Loi Krathong.
The promotion of these 16 festivals is to further highlight the kingdom's cultural traditions and help generate more revenue for local communities, in line with Thai tourism's new direction towards more sustainable and responsible tourism.
The 16 festivals are:
Bun Ban Klang Festival, Chon Buri
This outdoor merit-making ritual in Phanat Nikhom District involves locals putting food onto banana leaves cut into squares, to ward off bad luck. The event is on from March-June 2023.
Phuket Food (Creative City of Gastronomy) Festival, Phuket
A fantastic occasion for food lovers, with plenty of food – both local and international – to be enjoyed.
Chao Mae Lim Ko Niao Festival, Pattani
A colourful homecoming festival for Chinese descendants of Pattani province. This year, the event took place on 2-8 February.
Ban Chiang World Heritage Festival, Udon Thani
A celebration of the historical significance of the World Heritage Site-listed Ban Chiang area, considered the most important prehistoric settlement so far discovered in Southeast Asia. This year, the event took place on 10-12 February.
Hok Peng Festival to Worship Phra That Chao Phu Phiang Chae Haeng, Nan
A worship ritual at Wat Phra That Chae Haeng, Phra Aram Luang, in Phu Phiang district. This year, the event is taking place from 28 February to 6 March.
Hae Malai Khao Tok Festival, Yasothon
A cultural celebration in which thousands of hand-made garlands connecting popped rice together are displayed on floats. This year, the event takes place from 1-5 March at the event's grounds in front of Mahachanachai District Office.
Hae Phra Khuen That Festival, Nakhon Si Thammarat
This celebration sees the wrapping of a long piece of sacred yellow cloth around the base of a stupa at Phra Mahathat Woramahawihan. Wat Phra Mahathat. This year, the event takes place from 2-6 March.
Korat Street Art, Nakhon Ratchasima
A lively and colourful showcase celebrating creative works by regional artists.
Sdok Kok Thom Festival, Sa Kaeo
This festival highlights the renowned historical Sdok Kok Thom Khmer castle.
Kram & Craft Sakon Festival, Sakhon Nakhon
A festival in celebration of the local community's cultural creativity, involving the use of natural plants to dye fabric.
Vesak Day Festival, Mae Hong Son
Known locally as Nataya Heng-sattha Gingala Nom Bucha Visakhaburamee, the event is a traditional merit-making ceremony held on Vesak Day, a sacred day to Buddhists and some Hindus.
Tak Baht Dok Mai Khao Phansa (Festival of Floral Offerings), Saraburi
A traditional merit-making ceremony involving the giving to monks of white Khao-Phansa flowers, also known as Dok Hong Hern (flying swan flower), held annually on Khao Phansa or Buddhist Lent Day.
Phaya Sri Satta Nakarata Worship Ceremony, Nakhon Phanom
A religious ceremony for the Naga believed to live in the Mekong River at Phaya Si Sattanakarat multipurpose yard, enshrined on the banks of the Mekong River. The event is on in July 2023.
Hom Heet Toi Hoy Roi Jai Tai Lue (Tai Lue Local Festival), Phayao
This event honours the Tai Lue ethnic community, and their distinctive traditions. Taking place at Wat Phrathat Sob Waen: Temple of the Tai Lue Culture, Chiang Kham Town, Yuan, Chiang Kham District, Phayao. The event is on from 15-16 July 2023.
Phetchaburi City of Gastronomy Festival, Phetchaburi
Another great event for food lovers, where they can enjoy fantastic local cuisine.
Khom San Duang Festival, Lamphun
Literally translated as a festival of a hundred thousand lanterns, this is a picturesque celebration that sees numerous floating lanterns let go into the sky during the annual Loi Krathong Festival at Wat Phra That Haripunchai Woramahawihan.
More details of each of the festivals as well as dates for this year's events will be updated as soon as the information is available.
-=-=-=-=-=-=-=–=-=-=-=-=-=-=-=
Help support The Pattaya News in 2023!
Need medical or travel insurance for your trip to Thailand? We can help!
Follow us on Facebook, Twitter, Google News, Instagram, Tiktok, Youtube, Pinterest, Flipboard, or Tumblr
Need legal advice or a lawyer? We can help. Click here.
See more information about listing a property with us by clicking here.
Want to advertise with us or inquire about promoting your business, event, charity, or sporting event? E-mail us at Sales@ThePattayanews.com