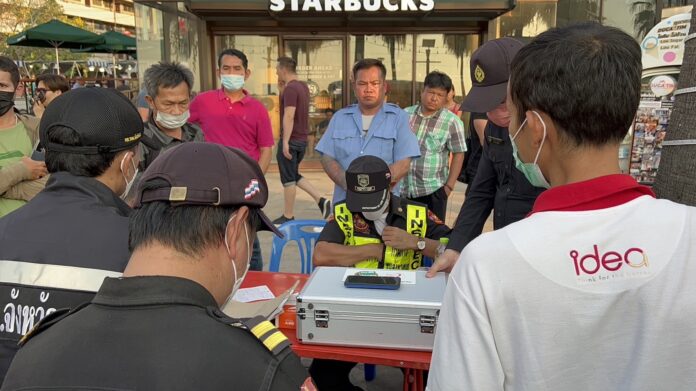 Pattaya —
Pattaya Police launched a crackdown on app taxi drivers and fined many of them for using private vehicles to pick up passengers and not having public transport driving licenses.
The crackdown took place at 5 PM on Wednesday, February 8th. Pattaya Police led by police chief Pol. Col. Thanapong Phothi were urged by the Pattaya Bus Cooperative to press legal action on app taxi drivers, such as Bolt, who used their unregistered vehicles to transport passengers.
Pol. Col. Thanapong told The Pattaya News that most drivers he pulled over lacked the necessary documentation and credentials to legally operate as taxi drivers, including a valid public transportation driver's license, transport registered vehicle, designated yellow license plate, and transport insurance.
The drivers mostly worked for Bolt, a popular ride-hailing app among tourists, the Pattaya Bus Cooperative told The Pattaya News. Although they charged less, Bolt drivers operated illegally and took customers away from legal taxi drivers, the organization added.
Meanwhile, Bolt drivers stated that they earned very little and now had to pay a fine of over 2,000 baht. Some of them did not have a job, and driving was the only means they could do to pay the bills. The drivers claimed they could not afford the proper documentation to become proper taxi drivers and that their employers were not helping them with the complex and time consuming process to do so.
Amongst other requirements, becoming a proper taxi driver requires extensive documentation and vouching from taxi companies, which makes it nearly impossible for an individual driver to get the required documents unless their employer assists.
The dispute between Bolt drivers and taxi drivers remains an unresolved problem for a long time. Many Thai authorities have asked Bolt to help its driver partners get the required documentation, but the company has yet to officially proceed with the request, insisting its drivers are independent contractors and not employees.
The conflict sometimes undesirably escalates to violence, such as this latest public clash on January 25th where two taxi companies fought over allegedly overlapping territory.
-=-=-=-=-=-=-=-=-===-=-=-=–=–=–=–==-
Join the discussion in our Facebook group https://www.facebook.com/groups/438849630140035/or in the comments below.