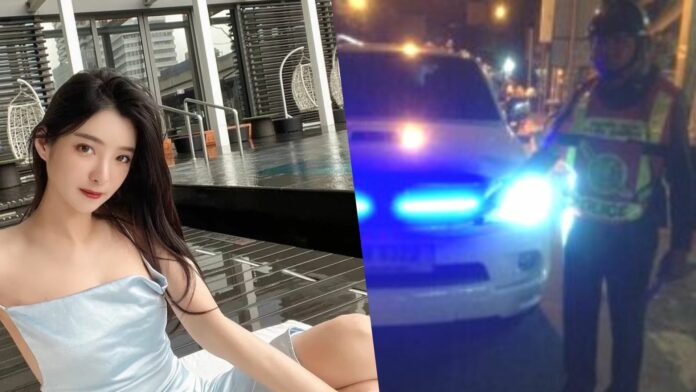 Bangkok —
A Taiwanese actress warned her compatriots not to carry around too much cash while traveling in Bangkok, not because of thieves but because of what she called the "Bastard Police."
An actress famously known as "Charlene An" or An Yu-Qing took to her Instagram account to complain about her alleged bad encounter with law enforcement in Bangkok, Thailand, during her visit to the country over the New Year's Day period.
The 32-year-old celebrity claimed that she and her friends had been extorted by the Thai police for 27,000 baht on made-up charges.
She revealed that on January 4th at about 1 AM, she and her friends were stopped at a police checkpoint while traveling to her hotel in a taxi in Bangkok.
The woman said the police searched her bag and body and demanded to see her visa. She said she had on her the VOA visa (visa on arrival) and handed it over to the police, which they refused and demanded to see a printed visa with a stamp.
The victim commented that the police were desperate to charge her and her friends, although their VOA visas were issued at the airport and were legal.
One of the victim's friends secretly tried to record the incident, but the police caught them and forced them to delete the footage. The police then took the victim and her friends to a police station, where they were forced to stand for a long time for no reason.
The victim added that the allegedly corrupt cops demanded an "apology" for something she did not do, but she obeyed anyway because the cops were vehement. "The police were dealing with me as if they were dealing with a Mexican drug dealer, which I am not! I am a tourist!" the victim told social media.
After two hours of negotiation and literal begging, the police took her to a blind spot void of CCTV cameras and said, "Each of you must pay 27,000 baht before you can go."
Out of fear and exhaustion, the tourists paid the cops. They then hailed a taxi back to their hotel.
Charlene An came out to reveal her nightmare after she had returned to her homeland. She called the Thai police she encountered hēijng (黑警), meaning "Bastard Police."
Meanwhile, following this viral allegation, Pol. Col. Yingyot Suwanno, chief of the Huai Khwang Police Station, Thursday told the press that he had been notified of the incident and was looking into the tourist's claim, adding usually there was no police checkpoint at the spot where the tourist alleged she was extorted.
The victim declared on social media that she would never step foot in Thailand ever again.
-=-=-=-=-=-=-=-=-===-=-=-=–=–=–=–==-
Join the discussion in our Facebook group https://www.facebook.com/groups/438849630140035/or in the comments below.