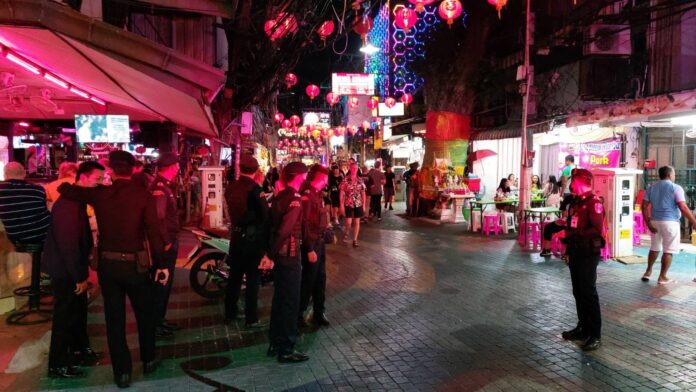 Pattaya, Thailand-
An unidentified foreign tourist suddenly collapsed and died in front of a strip of beer bars in the Walking Street area this morning.
The incident took place around 1:30 AM today, January 22nd, near a strip of Beer Bars located near the middle of Walking Street. The shocking incident occurred in front of over a dozen witnesses drinking at nearby bars.
The tourist, believed to be of Middle-Eastern or Indian descent and around 55-years-old, collapsed suddenly without any warning or noise, hitting his head hard on the pavement. He was traveling alone and had no identification documents on him.
Rescue workers were called to assist the tourist and nearby medical staff attempted to provide CPR but the man tragically passed away. His body was taken to a nearby hospital to attempt to discover his identity.
Meanwhile, Pattaya police planned to review CCTV footage from nearby bars and determine the exact cause of death but initial statements seemed to reflect that police believe the man suffered sudden cardiac arrest. There was no sign of foul play.