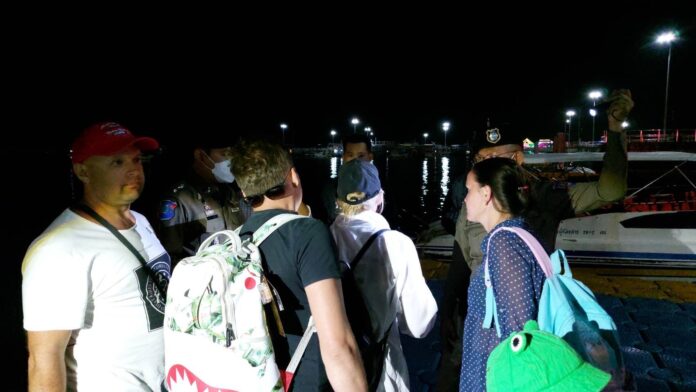 Pattaya, Thailand-
A family of six from Russia were relieved last night just offshore of Pattaya after tourist police helped rescue them. The family had been reportedly abandoned by a tour boat company.
The incident happened on Koh Sak, a small horseshoe shaped island 600 meters from Koh Larn, popular for swimming and diving and seeing handprints of celebrities who have visited the tiny island like Neil Armstrong, the Duke of Edinburgh, former US presidents, and more.
The island is only accessible by speed boat and has only a handful of permanent Thai residents, who serve as caretakers of the island. There is no accomodation on Koh Sak and visitors need to leave before nightfall.
According to the Russian family, whose full names were not given, they rented a speedboat only identified by a pokemon symbol, Pikachu, to visit the island from 11:00 A.M. to 5:00 P.M. yesterday, January 15th, 2023.
However, the speed boat operator did not return to the agreed meeting point at 5 PM and did not answer repeated phone calls, according to the family. The sun set and darkness encased the nearly uninhabited island, scaring the family now stuck on a local beach.
Luckily, a caregiver on the island spotted the family and called the tourist police. Initially, the caretaker frightened the family as he did not speak a word of English or Russian and the family did not speak Thai.
Around 8:00 P.M. Pol.Lt.Col.Pichaya Kheawpluang, arrived on the island via boat with tourist police and marine lifeguards and helped the relieved family back to Pattaya. According to Pichaya, this was an incident that badly hurts tourism in Pattaya and officials would identify the speed boat operator and summon them for possible legal charges today, January 16th, 2023.
Lt. Col. Pichaya added that this wasn't an unprecedented incident but normally only happened on Koh Larn, albeit rarely, where there are other speed boats and overnight accomodation, which didn't make it as critical an issue as on Koh Sak.