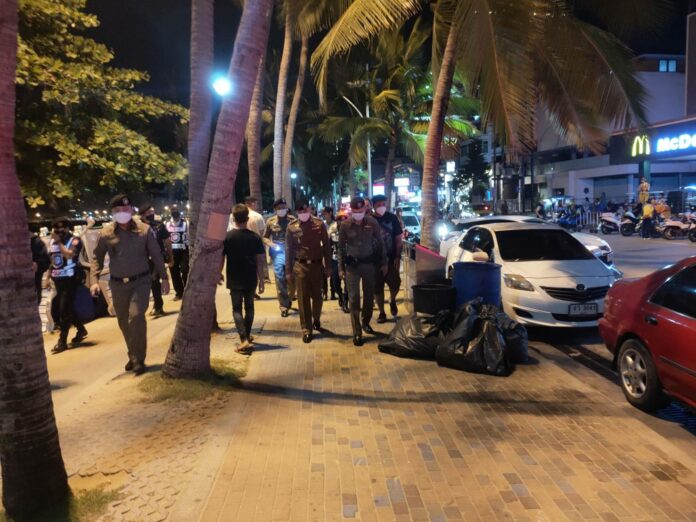 Pattaya, Thailand-
Pattaya City officials are considering cancelling an order implemented during the Covid-19 pandemic allowing parking on the beach side of Pattaya Beach, but have yet to make any final decisions while they listen to all opinions.
Prior to the Covid-19 pandemic, parking directly on the beach was prohibited to allow traffic to flow smoothly, according to Pattaya City Traffic Police. However, due to a lack of foreign tourists and closed borders for almost three years due to Covid-19 parking was allowed after many petitions from beach vendors.
However, concerns about already worsening traffic and returning Chinese tourists and eventual tour groups and buses are now seeing Pattaya Traffic Police recommend the ban be reinstated. Pattaya City Mayor Poramese Ngampiches and relevant Banglamung officials, however, have not made a final decision and are surveying many different parties involved.
Pattaya City is in the middle of a project to widen Beach Road overall, which will eventually allow more parking and more space to drive, but this is likely to be over a year until it's completion and currently only a very small portion at North Pattaya Beach is underway.
It is certainly true, admit Pattaya City officials, that allowing parking has made Pattaya Beach much more attractive to domestic tourists from Bangkok and Eastern provinces. However, with the return of foreign tourists, the concern from traffic police is that it makes the current situation unsustainable from a traffic perception until the Beach Road expansion is finished.
Proposals for alternative parking locations and regular shuttles are also being listened to, Pattaya City added. What do YOU think? Tell us in the comments.