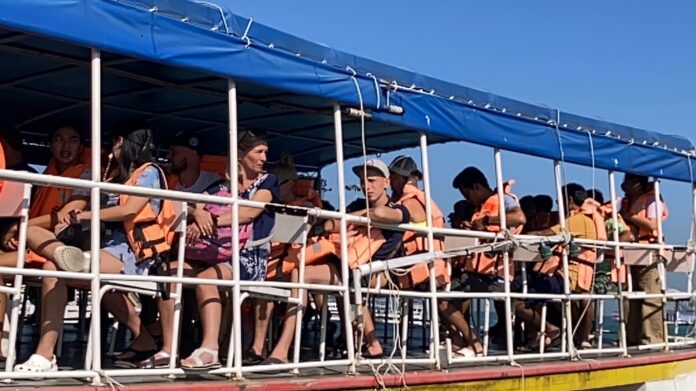 Bangkok, Thailand-
A proposal made by multiple Thai agencies to require proof of at least two Covid-19 vaccine shots in the wake of the return of Chinese tourists next week has caused anger, frustration, and panic amongst many would-be travelers to Thailand.
The proposal, which still needs final Thai Cabinet approval, and in which specific details and information have not yet been released, can be found HERE.
The proposal was led by Thai Public Health Minister and Deputy Prime Minister Anutin Charnvirakul and included input from multiple ministries such as Tourism and Sports, Transport, Office of the Insurance Board, and more.
In essence, the proposal is due to the return of Chinese tourists after three years effective from Sunday, January 8th, after China dropped most of its Covid zero measures and prepares to reopen its borders to travel. The proposal also includes a further policy to require proof of insurance for any traveler coming from a nation requiring a Covid-19 test to return home, which would also include India who recently enacted this rule for travelers coming from Thailand and several other countries.
The reaction to the proposal has been, to say the least, unpopular. Anutin has continually stated Thailand will not discriminate and single out China individually with Covid restrictions like many other countries like the US and UK have done, due to concern about the level of Covid in the country currently after a widespread breakout.
Instead, due to what many analysts and social media users believe is mainly politics, Thailand will apply any measures to deter Covid to all visitors versus only China. This of course avoids offending the Chinese government who has already praised Thailand for their approach while chastising countries, especially the US, who have enacted restrictions on their citizens.
Anger, frustration, and above all confusion have followed the proposals online and led to many questions and inquiries on social media. However, as the proposals need Thai Cabinet approval there is simply no answer to the plethora of questions being asked right now and won't be until or if the proposals are given final approval, possibly as early as next week.
Some of the most popular questions sent to TPN media have been inquiries such as if unvaccinated people can test instead of have proof of vaccination, how far back vaccination shots taken will be accepted, types of shots accepted, when the program will start and end, what cost level of insurance is needed for those who require it, how one provides proof of vaccination, etc.
Quite bluntly, none of those questions can be answered at this time until more information is released. This in turn has further frustrated many people who have booked expensive accomodations and travel to Thailand for trips in the next few weeks. Many comments online seem to express that some would-be tourists have already cancelled their trips after the proposals were announced.
For now, all anyone can do is sit and wait for further information from the Thai Cabinet and the Thai government. Announcements and proposals with little advance preparation are hardly unusual in Thailand and were common during the height of the pandemic. However, many people clearly thought that once Thailand lifted nearly all Covid restrictions and documentation proof in July of last year, that they would never return.
Unfortunately, it appears it isn't over yet.