Sri Racha District, Chonburi —
A free diver was hunting for fish in Regional Irrigation Office 9's reservoir in Sri Racha district, Chonburi, when he stumbled upon a body trapped inside a submerged sedan yesterday, January 5th.
The reservoir located in the Bang Phra subdistrict is overseen by Regional Irrigation Office 9. The fisherman, 29-year-old Mr. Witoon Boonprakom, was free diving for fish three meters deep and six meters away from the reservoir's bank when he ran into a white Toyota Vios sedan at the bottom of the pond.
Mr. Witoon told local media that he initially had doubts about his discovery, so he resurfaced and dived back down to confirm that it was indeed a car. Once he was certain, he emerged from the reservoir and contacted the authorities.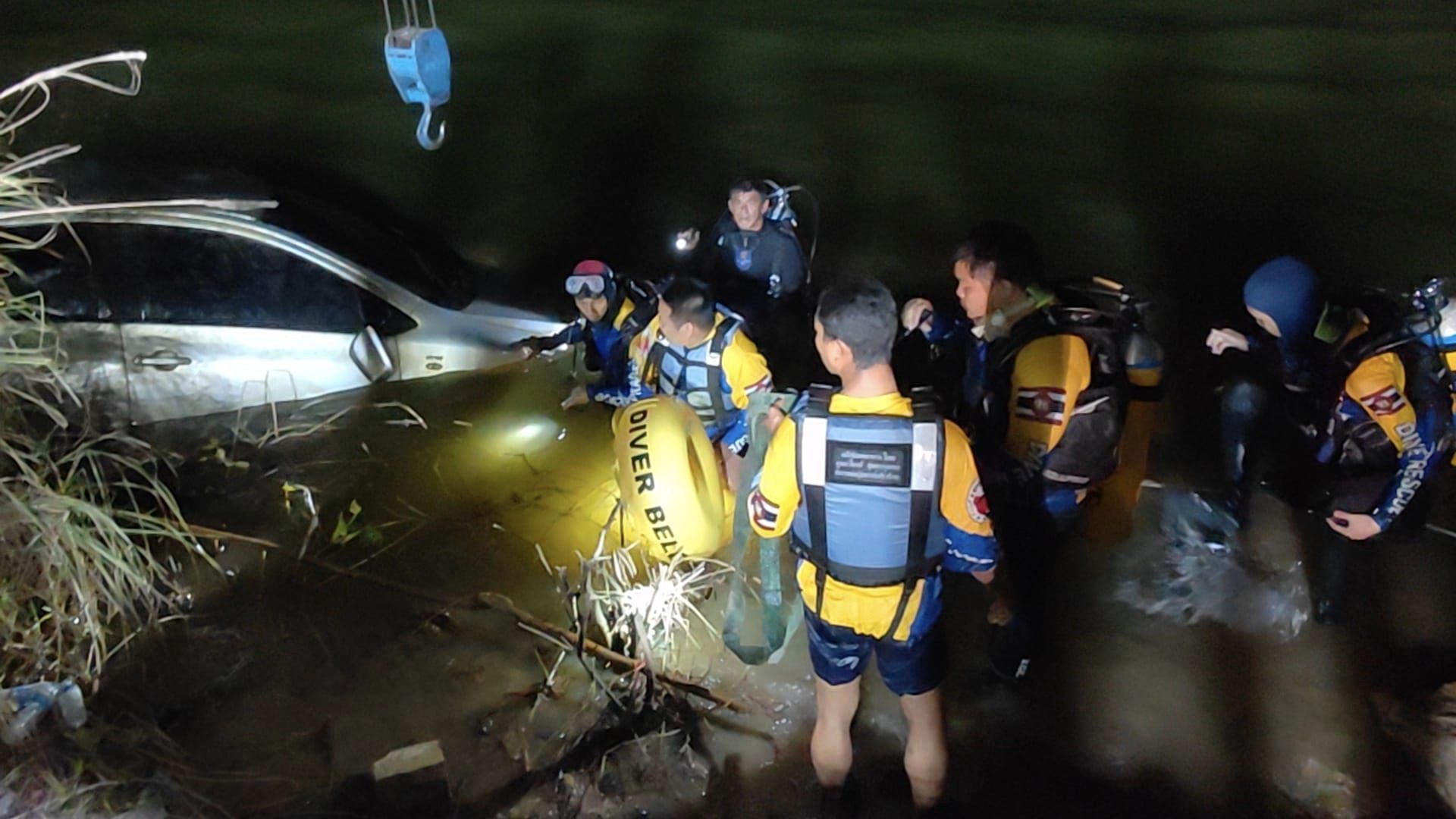 It took the rescue diver team 10 minutes to find the car and some time for a crane truck to lift it out of the water. The car had a license plate registered in Bangkok. Its bumper was slightly loose and damaged. All windows were locked, so the rescue team had to break one of the windows to recover a male corpse trapped in the driver's seat.
Authorities told local media that they could not identify the body's identity, but it belonged to a man aged between 30-40 years old. He wore a short-sleeved dark shirt and long dark trousers. The body was decomposing, the forensic team believed the victim had been dead for at least 10 days. No wounds were found, according to the forensic team.
Upon inspection of the car, the authorities found that the car's gear was in the D position, with a key stuck in the ignition. They also found a suitcase, a helmet, a pair of sneakers, and a skateboard inside the trunk. No documents that could identify the body were found.
Sri Racha investigators suspected that the victim might have plunged into the reservoir by accident while navigating a curve adjacent to the reservoir's dirt bank. They also said the victim might have traveled at high speed and been unfamiliar with the road.
Efforts by the authorities to identify the victim and to find his family using his license plate are underway. The body is being kept at Laem Chabang Hospital to undergo an autopsy.
-=-=-=-=-=-=-=-=-===-=-=-=–=–=–=–==-
Join the discussion in our Facebook group https://www.facebook.com/groups/438849630140035/or in the comments below.