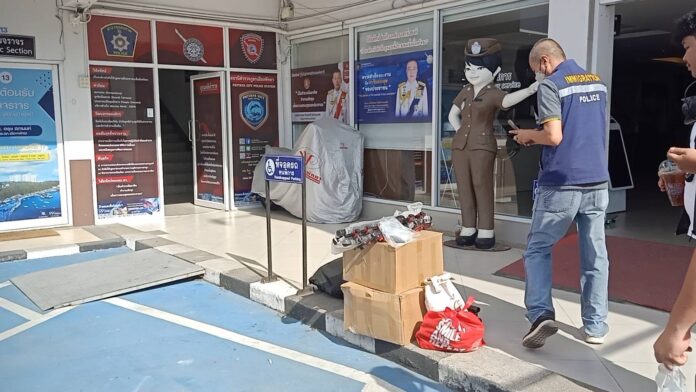 Pattaya-
Pattaya police with assistance from Royal Thai Immigration busted what they called an online pornography ring for Chinese nationals live streaming from a Pattaya condo today, December 11th, 2022.
The raid was led by Pattaya police chief Kunlachart Kunlachai and assisted by Immigration Division 3 and Chonburi Immigration. The raid was conducted at a rental room at the Acacia Beach Continental condominium in South Pattaya. Pattaya police did not reveal how they learned about the live streams.
According to Chief Kunlachart, the raid found Ms. Chiraphat Chantanakhet, 29 years old, Mr. Sirawut Kruthayan, 24 years old, Mr. Sittisak Kochasongkram, 24 years old, Mr. Peerapol Damrisu, 22 years old, Mr. Warinda Khamuan, 35 years old, and Mr. Nonthana Thaemsuk, 20 years old, participating, filming, and live streaming obscene sexual acts to a Chinese audience.
The suspects stated they were hired by a Chinese entrepreneur who paid them 1,500 baht per clip produced. The suspects stated they made about five clips a day.
The group claimed they did not know the identity of their employer. Pattaya police took all six suspects into custody under various Thai obscenity laws and stated they will continue hunting for the owner and operator of the business. However, police also admitted it is possible the owner may not even be in Thailand.
Thailand has long enforced strict laws against adult live streaming, with regular stories of Thai police arresting Only Fans performers online in the Kingdom.