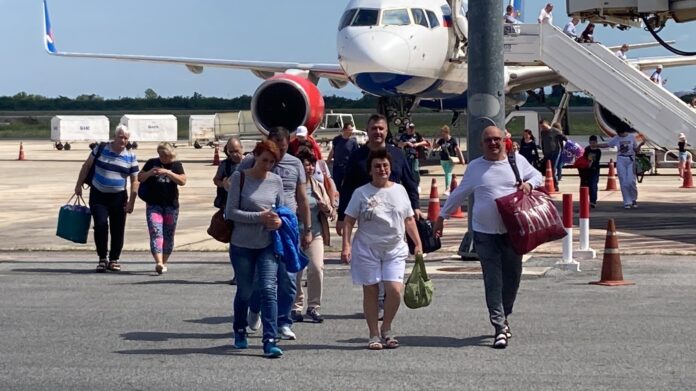 Pattaya-
The U-Tapao Airport located near the popular tourism destination of Pattaya held special ceremonies today, December 10th, 2022, to welcome hundreds of Russian tourists as part of a national celebration marking the arrival of ten million tourists in Thailand this year alone.
Thailand views the event, although far short of a record 40 million visitors in 2019, as a major step to recovery of its vital tourism industry after two and a half years of COVID-19 restrictions and border closures put the tourist industry on life support.
Much of the recent recovery, according to the Tourism Authority of Thailand, or TAT, is attributed to Russian tourism. Although ongoing sanctions and restrictions cause many Russian visitors to be limited on where they can travel internationally, caused by the ongoing military action between Ukraine and Russia, Thailand has continued to maintain neutrality in this conflict. As a result, Thailand has been a very popular destination for Russian visitors.
Two seperate flights from Russia arrived this morning at U-Tapao airport, carrying a combined amount of approximately six hundred visitors from Russia. All were given special tourism packages and a warm welcome from TAT and U-Tapao officials as part of the ten million tourist celebration.
TAT has predicted that the Russian market will continue to grow and be a significant part of TAT's goal for twenty million tourists in 2023. TAT is still taking a conservative approach to tourism arrivals for next year, primarily because China, Thailand's number one tourism market before the Covid-19 pandemic, is still restricting international travel and has strict COVID-19 measures, although some have begun to be gradually eased.