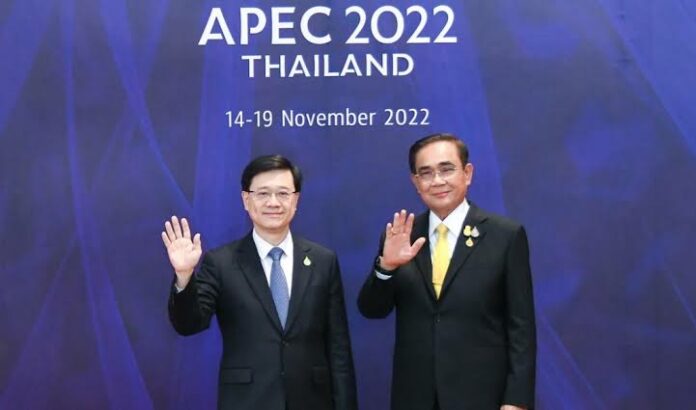 World-
Hong Kong leader and Chief Executive John Lee, 64, tested positive for Covid-19 upon arrival at the Hong Kong airport where he was returning from the APEC summit in Bangkok.
John Lee had direct interaction with many world leaders, including sitting next to Chinese President Xi Jinpeng and interaction with Thai Prime Minister Prayut Chan-O-Cha.
According to a statement by the Hong Kong government, Mr. Lee will be isolated and quarantined per Hong Kong government policy and will work from home, attending video conference calls if needed.
Hong Kong still has fairly strict Covid protocols, although not as stringent as nearby mainland China. All travelers must still take a PCR test upon arrival at the Hong Kong airport and follow various regulations for several days before being given full freedom of movement.
Mr. Lee had tested negative for Covid while conducting daily rapid tests in Bangkok at the APEC conference, or Asian Pacific Economic Cooperation, and was reportedly asymptomatic.
Statements were not immediately made by most world leaders on their covid test results or if they intended to quarantine or self-isolate following the announcement from Hong Kong. Many eyes on specifically on Xi Jinpeng, whose strict Covid curbs and isolation rules for contacts are still the most restrictive in the world.
Thai Prime Minister Prayut Chan-O-Cha stated he has tested negative for Covid but out of precaution will rest at home for a day