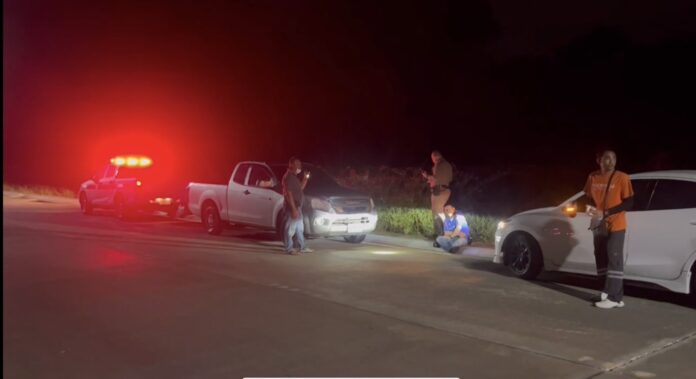 Pattaya, Thailand-
An unidentified Thai man believed to be in his early forties was arrested in Nongprue last night, November 13th, for allegedly sexually abusing two stray dogs outside of a distribution warehouse of a private transport company.
The incident took place at 9:00 P.M. at a warehouse located outside of Soi Nong Mai Kaen 12 Moo 7, when the unidentified Thai man drove up to a parking lot outside the building in a bronze Izuzu D-max, stepped out of the vehicle, and began interacting with two stray dogs in the lot, a male and a female dog.
Mr. Prateep Rodphetpai, 45 years old, a warehouse security worker, was working inside the CCTV room of the warehouse and decided to carefully observe the man as his behavior seemed odd. A short time later Prateep's suspicions proved correct as he was shocked to see the man allegedly perform sexual acts on each dog. The man then began to try to take one dog, a male, into his pick-up truck but the dog attempted to resist and get away.
Prateep called police while the suspect continued to now try to take both of the canines.
Lt. Col. Chanchai Sanguansaksit Deputy Police Station, Nong Prue Police Station, Chonburi Province, arrived quickly having been nearby and detained the suspect. According to Lt. Col Chanchai, the suspect appeared to be heavily intoxicated and empty cans of beer were found in his vehicle. The suspect was uncooperative, cursing at Chanchai, and speaking incoherently about how he only loved the dogs and didn't want to hurt them.
Chanchai initially arrested the man for driving under intoxication and reviewed CCTV, reportedly confirming the statements made by Prateep. The suspect was taken to a local police station to determine who he was, as he would not identify himself, and face likely additional charges for his behavior.