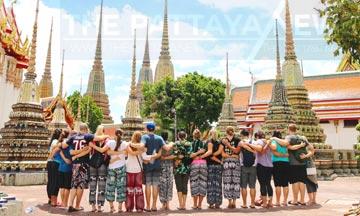 The following is our exclusive weekly feature in which we ask our readers a news topical question and then give you a week to answer it on our various channels, compiling a diverse range of answers and opinions to present to you, our valued readers. Here are the results from our last question…
Last week, we asked you the following:
Should foreigners be allowed to own land in Thailand and under what conditions?
Some context around this question:
Click on the article below to learn more about this:
Here is what you, our readers, had to say as our editors selected some of the most diverse responses to highlight different points of view. Obviously, we can't post everyone's opinion here so we chose a variety of the most varied opinions. The views and statements below are the reader's own and may not reflect those of TPN media. There have been minor edits for spelling and grammar only:
-=-=-=-=-=-=-=–==-=
Graeme-Frankly I find the negative comments from many Thai people on this issue as uninformed, selfish, and unrealistic, and a lot of scaremongering. Thai's are legally entitled to own land in many western countries including my native country, Australia. In fact, many already do, including Thai politicians, government officers, and leading Thai businessmen and their families. Perhaps if Thais were not allowed to own land in other countries I would understand but that's not the case. I've lived and worked in the Kingdom for 32 years. I have a Thai wife and two children born here. My business partner and I have invested around THB 150 million baht in this country and we've at times employed up to 700 Thai people in our factory that exports most of our production bringing in much-needed income and foreign exchange to Thailand. Surely as a loyal contributor to the economy of Thailand for many years, I should be entitled to own up to say 1 rai of residential land for my wife and family and other family members who we support to enjoy this wonderful country as a homeowner and Thai taxpayer.
-=-=-=-=-==-=-=-=
Jeff-In international relations and treaties, the principle of reciprocity state that favors, benefits, or penalties that are granted by one state to the citizens or legal entities of another, should be returned in kind.
-=-=-=-==-=-=-=-
John B-Silly question but is a condo unit considered land? If foreigners are not allowed to buy land in Thailand, would that mean they couldn't purchase a villa because they'd have to purchase the land that the villa resides on?
-=-=-=-=-=-=-=-==
Steve C-I couldn't care less
-=-=-=-=–=-=-=-=-
Keith S-Gutted… I am sure Foreigners were queueing in their thousands to stump up 40million baht for one rai of land….have another try.
-=-=-=-=-=-=-=-=-
Rich B-In my Grandad's days he was allowed to own a house in Australia only on the condition he brought unused land so the area/ country could develop and prosper, that plan seemed to work for Aus.
-=-==-=-=-=-=-=
Jason B-Foreigners have no right to buy land there it's not their country
-=-=-=-=-=-=–=
Chris W-Same rule/law should be reciprocated in other counties …
-=-=-=-=-=-=-=-
Gerhard S-Simple solution Thai people should not be allowed to buy land anywhere in the world and no foreigner can buy land in Thailand. Easy.
-=-=-=-=-=-=–=
Mark S-So many ways around it they might as well make it legal
-=-==-=-=-=-=-=-
Martin S-Now ban Thai nationals from owning property in western countries.
-=-=-=-=-=-=-=-
Bannon R-I'd love to buy a pool villa, but I haven't got 40 million baht lying around.
–=-=-=-=-=-=-=
Andrew W-It looks to me, that they're working themselves into a frenzy over a proposition that's unattractive to most foreigners. I'm sure there will be some Chinese officials wanting to launder their money and have somewhere to go outside China for when they fall out of favor with the CCP, but for most honestly (relatively!) wealthy people the terms of buying make it a 'No Thanks' option.
-=-=-=–=-=-=-=-
Rob W-Thais can own land in the USA. I would love to buy a house in Thailand, and legally own the land underneath it, and feel secure in my investment. How can a foreigner feel totally secure when buying a house in Thailand, when the 'land owner' (who you don't even know) can come along and kick you out? Or am I not fully understanding the rules?
-=-=-=-=-=-=-=
Dietmar-Who would be stupid enough to invest their hard-earned money when it can be "canceled" so easily?
-=-==-=-=-=-=-
Didn't get a chance to chime in? Tell us on our social media channels, in the comments below, or if you prefer your comment to be private mail us at Pattayanewseditor@gmail.com. Have a safe week and see you soon!