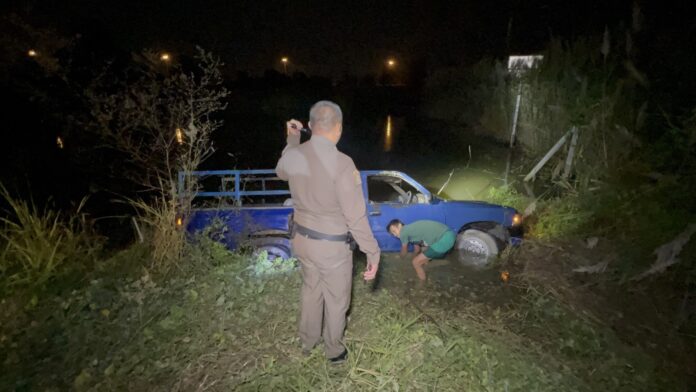 Nongprue/Pattaya-
An unidentified pick-up driver has fled after he plunged his vehicle into a lotus pond in Nongprue last night, November 6th, 2022.
The incident took place around 6:00 PM at a curve in Village number 12 in Nongprue. First on the scene was Pol.Lt. Col. Chanchai Sanguangsari, Deputy Police Commissioner of the Nongprue Police Station.
A 2005 blue Toyota Mighty X pick-up truck was found floating in the pond but the driver had vanished. A fence was broken near the roadway and curve.
According to a witness, Mr. Suphan Pangphimai, 39-years-old, the driver of the vehicle was speeding when he attempted to make the curve, plunging through a fence and into the pond. The male driver was not injured, swam out of the pond, and for unknown reasons immediately fled on foot said Suphan.
According to Lt. Col. Chanchai, the pick-up truck license plate information will assist law enforcement to locate and interview the driver, as well as determine why he fled the scene of an accident. The truck was towed out of the pond which took about thirty minutes and taken to a local impound.