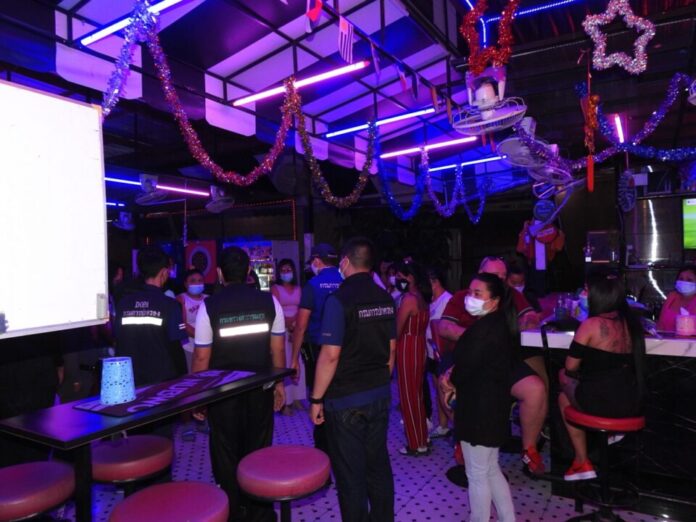 The following is our exclusive weekly feature in which we ask our readers a news topical question and then give you a week to answer it on our various channels, compiling a diverse range of answers and opinions to present to you, our valued readers. Here are the results from our last question…
Last week, we asked you the following:
Reader Talkback Thailand: What time should nightlife and bars close in and around Pattaya?
Some context around this question:
Click on the article below to learn more about this:
A look at the week ahead in Thailand: Crime crackdown continues nationwide, bar owners in tourist areas want 4am legal closing before World Cup
Here is what you, our readers, had to say as our editors selected some of the most diverse responses to highlight different points of view. Obviously, we can't post everyone's opinion here so we chose a variety of the most varied opinions. The opinions and statements below are the reader's own and may not reflect those of TPN media. There have been minor edits for spelling and grammar only:
-=-=–=–=-=
James-Since a large part of Thailand's GNP comes from the tourist trade and a large part of the tourist money comes from those tourists that cater to the bar scene, the closing at two o'clock AM time seems to work in most cities in the world. Even so, no matter what time the "Offical" closing time is, many will stay open via payoff to the police.
-=-=-=-==-=-
Michael W-Venues masquerading as restaurants should not be allowed to have large and loud concerts in suburban areas. These venues hold about 200 people
-=-=-=-=–=-=
Dr. Jeff-New Factors: Post-Pandemic reports from The USA indicate that tourist travel is up while business travel is down somewhat due to Zoom replacing the need for business travel. So tourists can help overcome the Pandemic more than business travel. Tourists usually do want to stay up later but now they may not just want to drink alcohol. In Miami, due to increasing crime and an overly wild Spring Break a few years ago, a one-hundred-year-old closing time of 5 a.m. was voted out and changed to 2 a.m.
Marijuana, as a new legal recreational legal drug alternative, being a much more calming type of intoxicant, IMO, might be the way for tourists to stay up to talk to each other and have a good time until 5 a.m. without leading to crimes and problems of very late night bar closing times.
-=-=-=-=–=-=
John B-Let each business decide if it's profitable to be open and close when they find it inconvenient.
Government regulations that change on a daily basis at the whim of local authorities is the WORST WAY to attract tourists who want to eat, drink, and party all night. Obviously, these activities must be confined to specific Zones so that the rest of us can get some sleep.
-=-=-=-=-=-=-=
Gustaf-Bars and nightlife should be BANNED they are not good for family-friendly tourists. Make it like it was last year, all alcohol sales were banned almost all year. Cannabis should also be rebanned and anyone who takes a prostitute given ten years in jail. This would make Pattaya much better.
-=-=-=-=-=-=-=
Bryan-Old men need more sleep. Add a gut full of beer to that too. I suggest 9.30 pm would be an appropriate time. My grandfather turns in at about 9ish most days.
-=-=-=-=-==-=–=
Paul-At least 4 am the world cup is coming up and the last game finishes at about 4 am.
-=-=-=-=-=-=-
Darren-24/7 If it's busy and they can make dough crack on up to the Bar Owners how it used to be
-=-=-=-=-=-
Peter-We should all be tucked into bed and asleep by midnight!
-=-=-=-=–
Alan-I liked it best during lockdown
-=-=-=-=-=-=-
Cliff-Should be open till 6 am
-=-=-=-=-=-
Zelda-None of the government's business at what time we close the bars; up to the owners. As long as there are customers, why should they close?
-=-=-=-=-=-=-
Alex-Pattaya bars should be licensed 24 hours a day. strict noise pollution should be enforced. all bars should have on-site security.
-=-=-==-=-=-
Nicola-
6 am
In more residential areas 2-3 am
But some party areas only no limits even ok
-=-=-=-==-=-=-
Mike James-Close everything stay Home and save lives
-=-=-=-=-=-=-=
Didn't get a chance to chime in? Tell us on our social media channels, in the comments below, or if you prefer your comment to be private mail us at Pattayanewseditor@gmail.com. Have a safe week and see you soon!