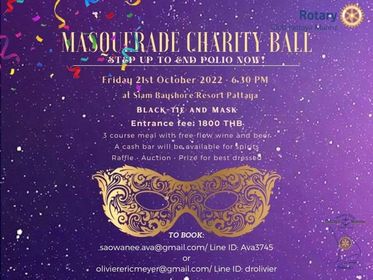 PR
As you know, this year, for the first time in a long time, polio has struck a developed country, the USA, hence the need to recall the usefulness of vaccination, Rotary Pattaya Marina is organizing an evening on October 21, 2022, for a fundraising charity for this vaccination.
Countdown to History
With your help, we can end polio.
In order to support the fight for the eradication of polio in the world, the Rotary Pattaya Marina organizes a gala dinner on
Friday, October 21, 2022, at 6:30 p.m. at Siam Bayshore Resort Pattaya.
We hope to see many of you because your participation will help Rotary and its partners to vaccinate every child against polio. Your contribution will triple our chances of freeing the world from polio.
Reservation: saowanee.ava@gmail.com line ID: Ava3745

olivierericmeyer@gmail.com

line ID : drolivier
Vaccination is more than ever a necessity in the world in view of the few cases that have appeared in Africa and for the first time in a long time, in a "rich" country, the USA. The fight is not yet won, it is a constant struggle.
Polio, or poliomyelitis, is a crippling and potentially fatal infectious disease that particularly affects children under the age of five. The virus spreads from person to person, usually through contaminated water. It can then attack the central nervous system.
Rotary has worked to eradicate polio for more than 35 years and we have never been closer to our goal.
As a founding partner of the Global Initiative, along with UNICEF, WHO, the Bill and Melinda Gates Foundation, and others, for polio eradication, we reduced the number of polio cases by 99.9 percent since the first childhood vaccination campaign in the Philippines in 1979.
Rotary members have contributed more than $2.1 billion and countless volunteer hours to protect nearly 3 billion children in 122 countries from this disease.
Rotary's advocacy efforts also played an important role in governments' decision to contribute more than $10 billion to this effort.
Polio remains endemic today only in Afghanistan and Pakistan, but it is essential to continue working so that the disease does not return to the countries where it disappeared.
If all eradication efforts stopped today, polio could again cripple 200,000 children a year within 10 years.
In a few numbers :
$3 Average cost for full protection of a child against polio.
430 million children were vaccinated in 39 countries in 2017.
100 million Cost of polio surveillance activities worldwide.
The preceding is a press release published with full permission and authorization by the organization(s) listed in the PR material and TPN media. The statements, thoughts, and opinions of the organization involved in the press release are entirely their own and may not necessarily represent those of TPN media and its staff.