National –
Thailand was ranked Tier 2 in the United States' Trafficking in Persons (TIP) Report 2022 for managing human trafficking problems in the country, moving up from the Tier 2 Watch List in 2021.
Thailand was upgraded to Tier 2, referring to a country that although the country does not meet the US standards for the elimination of trafficking, the government is making significant efforts to do so. Last year, Thailand was categorized in the Tier 2 Watch List, meaning that the country has severe trafficking but there is no clear evidence that the government is eliminating the problems.
According to the report, Thailand has shown its efforts to increase the number of trafficking investigations, finalize a national referral mechanism (NRM) that authorized a 45-day reflection period, finalize implementing guidelines for the forced labor provision of the anti-trafficking law, and initiate investigations of 17 alleged complicit officials in 2021 and sentencing two to terms of imprisonment.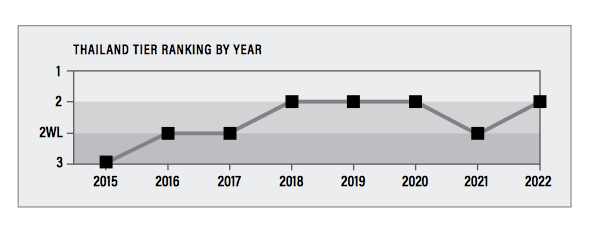 The TIP report also stated that Thai nationals are subjected to labor and sex trafficking in several countries, including in North America, Europe, Africa, Asia, and the Middle East.
According to the report, Thai women and LGBTQI+ individuals are exploited in Switzerland in sex trafficking. Thai citizens who travel to Norway for family reunification are at risk of sex and labor trafficking. Some Thai men and women are also forced labor in Israel's agricultural sector, in South Korea's commercial sex industry, in Cambodia's and Laos' gambling and scamming websites, etc.
The Thai government is advised to increase its trafficking prosecutions and convictions, particularly for labor trafficking as well as proactively investigate and prosecute officials allegedly complicit in facilitating trafficking and convict and punish those found guilty with adequate sentences.
-=-=-=-=-=-=-=-=-=-=-=-=-=-=–=–=–=–==-
Need Covid-19 insurance for your next trip to Thailand? Click here.
Follow us on Facebook
Join us on LINE for breaking alerts!