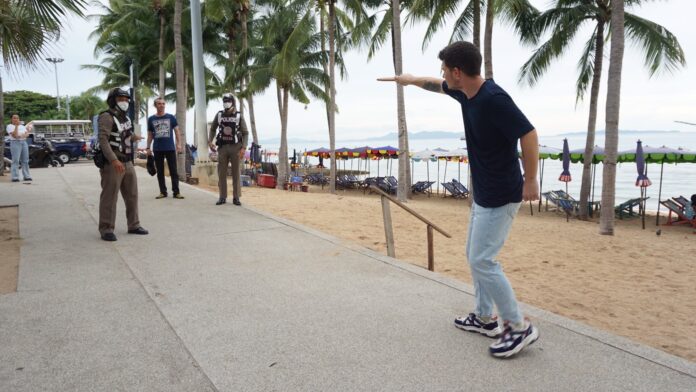 Jomtien Beach-
Today, June 22nd, 2022, Pattaya Police along with tourist police held a training session on Jomtien Beach specifically around dealing with armed, drunk, and aggressive foreign tourists.
The incident, which was a simulation and used all volunteers, including foreign volunteer actors as the victim and suspect, took place around mid-afternoon on Jomtien Beach near a smart safety emergency booth.
The training was supervised by Pattaya City Police Chief Kunlachart Kunllachai.
Officers participating in the training were told they would be involved in a training exercise with actors but were not told what the scenario would be. Nearby beach goers and bystanders were informed by volunteers the incident was a training and not an actual serious problem.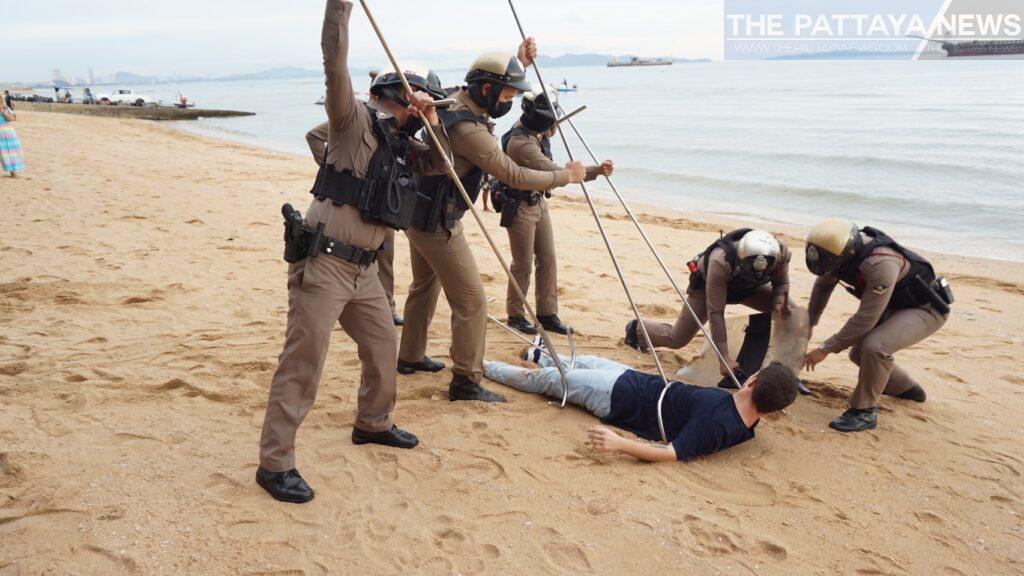 In the training scenario, a foreign victim had been threatened by another foreign suspect with a knife on the beach. The suspect was to be portrayed as highly intoxicated and out of control, shouting and aggressive. The victim used the emergency call button on the smart safety box to call training police to the scene.
Upon arrival training police attempted to get the suspect to drop the knife but he refused and made his way to the beach sand. At this point, officers used special equipment to help detain the suspect without harming him and arrest him.
Chief Kunlachart stated to The Pattaya News that he was proud of his officers and they responded well to the incident training. He reminded tourists and residents to immediately call police if there was a problem or confrontation and not try to resolve it themselves.
This incident training took place only days after an actual incident involving two tourists fighting with sharp weapons took place on Walking Street, with one suffering moderate injuries.