Bangkok –
Thailand's leading survey center "NIDA Poll" of the National Institute of Development Administration (NIDA) revealed its results on public opinions about decriminalizing cannabis and hemp and said that the majority is highly concerned about the inappropriate/illegal use of cannabis among children and youth.
The survey was done between June 13th and the 15th by a group of 1,310 Thai people aged more than 15 years old in all regions with different careers and incomes nationwide.
When asked if parts of cannabis and hemp containing THC less than 0.2 percent should be removed from the narcotics list and be able to cultivate legally for domestic use, 34.81 percent said that they strongly agree because marijuana is an economic plant and is a Thai traditional medicine that can generate income while 24.89 percent strongly disagreed because the plant contains substances that is not good for children and youth. Some of them specified that the public does not have much knowledge and information about cannabis and hemp and the government cannot effectively control the use of marijuana.
About 23.74 percent indicated that they somewhat agree because marijuana is a useful plant that can be produced as a medicine and 16.56 percent somewhat disagreed, stating that the decriminalization may cause marijuana addiction and affect health and some people may be used it in the wrong way.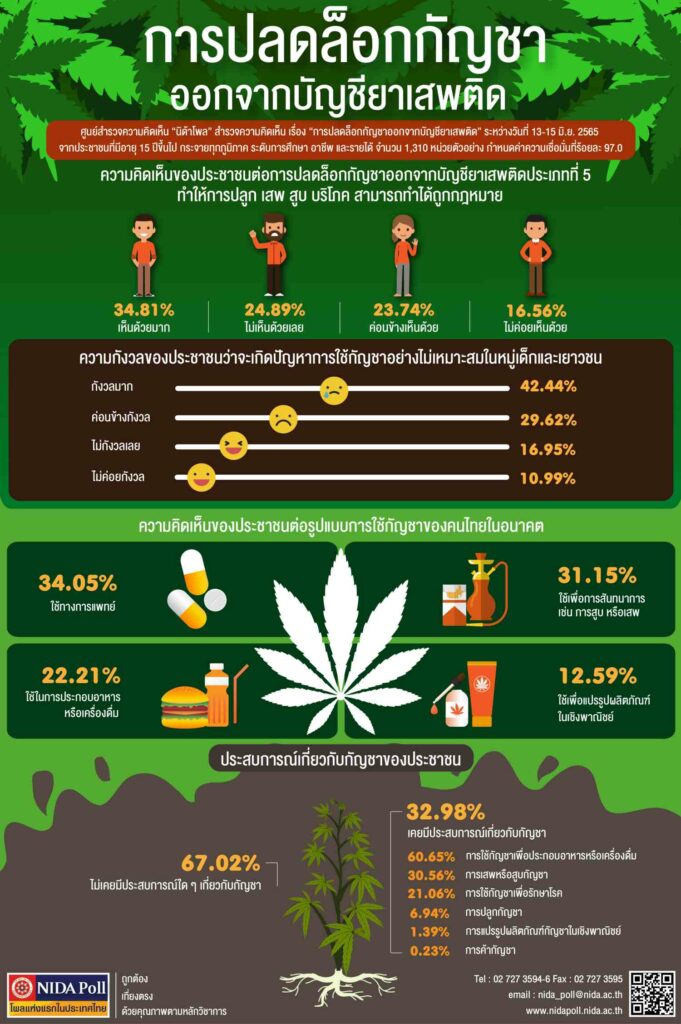 Regarding the public concerns about the problems of inappropriate use of the plants among children and youth, the majority of the surveyed people, accountable for 42.44 percent, said that they are very concerned, 29.62 percent said that they are concerned, 16.95 percent said they are not concerned, and 10.99 percent said they are quite concerned.
As for the opinions of the people regarding the use of domestic cannabis and hemp in the future, 34.05 percent indicated that they will be mainly used for medical purposes, 31.15 percent said for recreation, 22.21 percent stated for adding in food or beverages, and 12.59 percent said they will be produced as commercial products.
-=-=-=-=-=-=-=-=-=-=-=-=-=-=–=–=–=–==-
Need Covid-19 insurance for your next trip to Thailand? Click here.
Follow us on Facebook
Join us on LINE for breaking alerts!