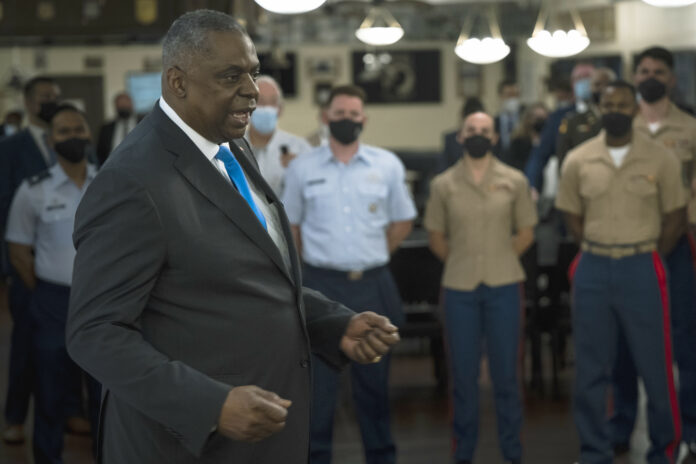 The U.S. military effort in Thailand is truly a joint endeavor and Secretary of Defense Lloyd J. Austin III had the opportunity to see it as he met with soldiers, sailors, airmen and Marines of the Joint U.S. Military Advisory Group – Thailand today.
The group – established in 1953 – works on a Royal Thai military compound in Bangkok. The service members also traverse the country working with Thai allies on everything from tactics and training to medicine and maintenance.
Austin met doctors, Marine security guards and airmen and soldiers working on training exercises.
"Thank you for what you do, representing the United States," the secretary said. "From this vantage point, this is a beautiful site, because it's a wonderful display of jointness and professionalism. It's exactly what the United States military is all about."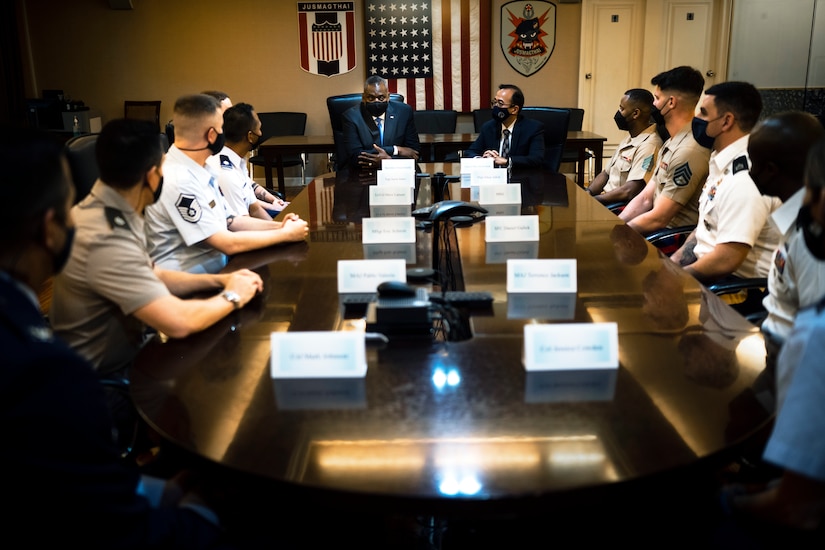 Austin made the point that almost everything in the U.S. military is done by a joint team. "And jointness, as you know, is a thing that you can't just wave a magic wand and make happen at the 11th hour, when you need it. You got to live that way each and every day," he said. "So learn about each other. Learn about how you complement each other's efforts, and what part your service plays in the overall picture."
Austin asked if there were any Space Force Guardians in Thailand, and when he found there weren't he said "gotta fix that."
But it is not just the joint part of the unit that he focused on. He also spoke about the Thailand part. "In many cases, because of what you do, you come in contact with a range of people from this country and from other countries," he said. "You are what shapes their opinion of the United States of America. It's been my experience, that you are some of the best ambassadors of our country. People learn about America, through your eyes, through their experiences with you. And I hope that you never forget that."
Austin thanked the Thai hosts of the unit. "They're accommodating our needs and facilitating interoperability with them," he said. "We're grateful for that. By the same token, we bring a lot to the table to help them as well. Again, just like it's important for us to work together as for the various services, it's absolutely important that we work together with our allies here, so that we are interoperable. Again, that's another thing that you can't wait until the last minute, the 11th hour and expect to be successful."
During a conversation with the media traveling with him later in the day, Austin brought up the men and women of the unit again. "It's really impressive to see the display of jointness here," he said. "Army, air force, navy, Marines working together in a seamless fashion to represent the United States of America and help create capability for our partners here. So, our youngsters remain focused on the task at hand and they are serving the American people very, very well."