Jomtien Beach, Pattaya —
The OSMA CR7 Gold team defeated KBU FC (Kasem Bundit University FC) by 3-1 in the national beach women's soccer competition on Jomtien Beach yesterday, June 3rd.
Lt. Gen. Issara Watcharaprateep, Advisor to the Sports Authority of Thailand, presided over the national beach women's soccer competition on Jomtien Beach at around 4 P.M. on Friday, June 3rd of 2022.

The highlight was the final match between OSMA CR7 Gold and KBU FC. Natasha Nguan-Sagiam made the first goal for KBU after just two minutes into the game before Amornmas Thongkerd scored an equalizer for OSMA shortly after, ending the first period by 1-1.

OSMA significantly got more possessions in the second period and made the second and third goals by Ornphon Bungthong, gracefully seizing the national beach women's soccer trophy for OSMA CR7 Gold against KBU FC by 3-1.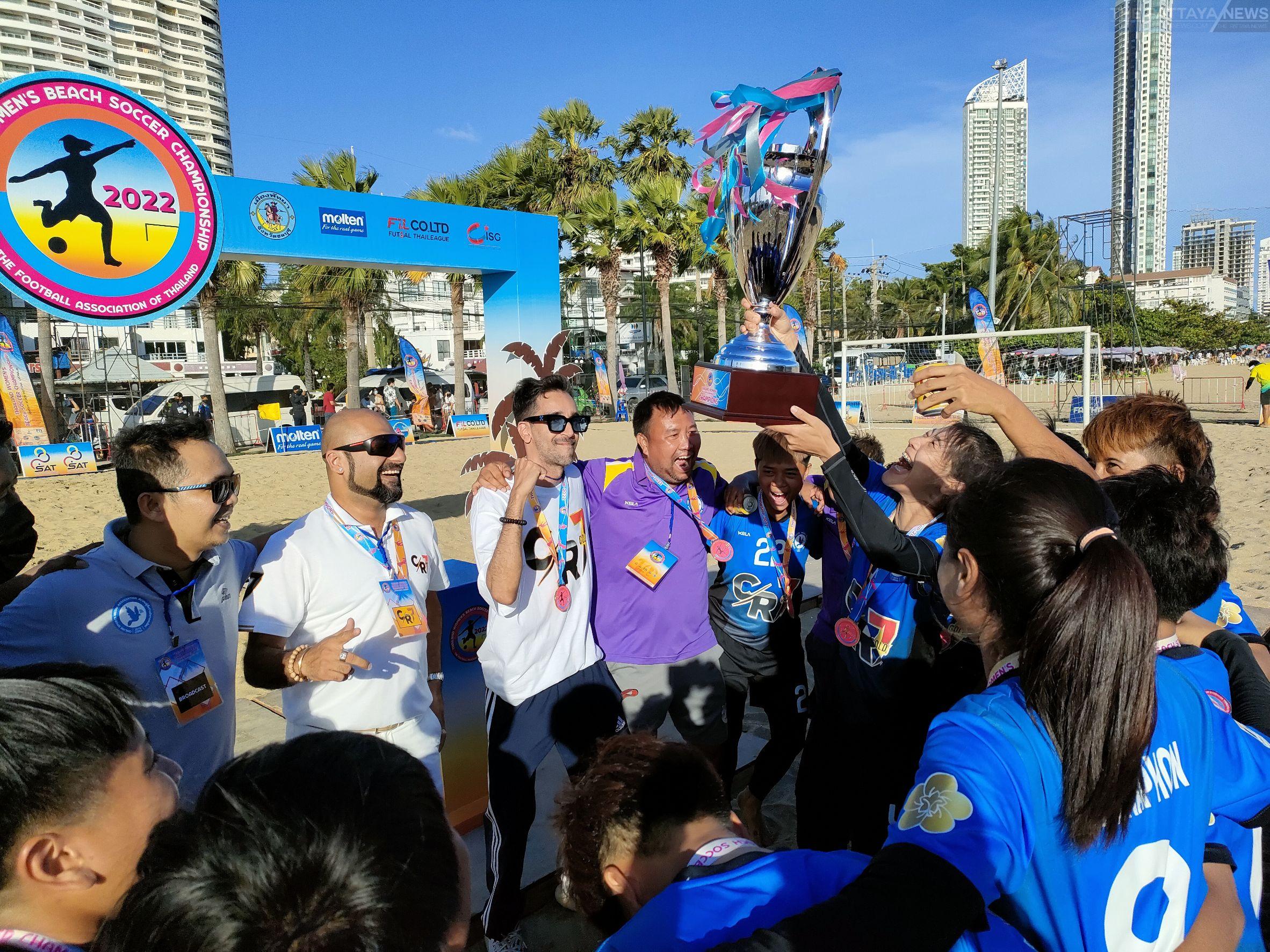 OSMA CR 7 Goal placed 1st, followed by KBU FC, Pathum Thani University, Burapha University, Marine, and Pratunam BSB.
The president of OSMA, Wankla Kwankaew, gave a speech at the end:
"I am so thankful for every member of OSMA for their unwavering commitment. I think of today's achievement as a great start for all the young athletes to pave their way to becoming national beach soccer players in the Asian Beach Games".
You can watch a replay here: Thailand Women's Beach Soccer Championship 2022
Follow us on Facebook, Twitter, Google News, Instagram, Tiktok, Youtube, Pinterest, Flipboard, or Tumblr
Join us on LINE for breaking alerts!
Or, join us on Telegram for breaking alerts!