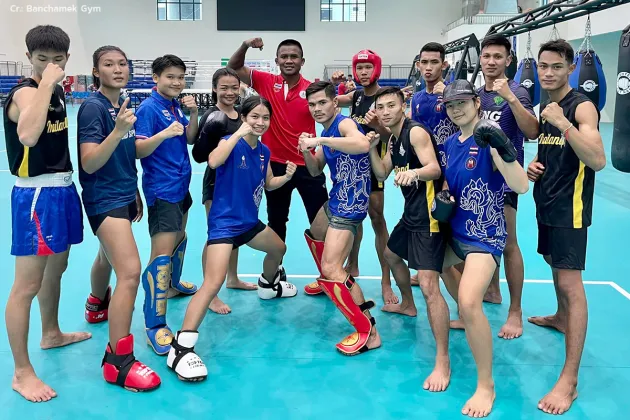 National —
Buakaw Banchamek, a world-renowned Muay Thai fighter, led the Thai kickboxing team to two gold medals, four silver medals, and six bronze medals in the ongoing 31st SEA (South East Asia) Games in Vietnam.
Buakaw Banchamek or Lieutenant Sombat Banchamek is the team manager of the Thai kickboxing team for the 31st SEA Games. He revealed to the associated press today, May 14th, that he was overjoyed that the young athletes had won the SEA Game medals. Despite the fact that it was an amateur league, which differed from the professional league in which he was experienced, he had exerted all of his efforts into training his disciples.
"This is a great achievement for me and the young athletes because nobody could have predicted the outcome. I have to say that it is a little difficult to nourish my students to be as good as me, but these kids are all very competent, obedient, and energetic, so I am able to pull them back up every time. I am so proud of my team." Buakaw Banchamek said. 
Additionally, he jokingly told the press that he got itchy to fight by himself while overseeing his team's matches. If the Thailand Kickboxing Association still trusted in him, Buakaw said he was willing to coach again.