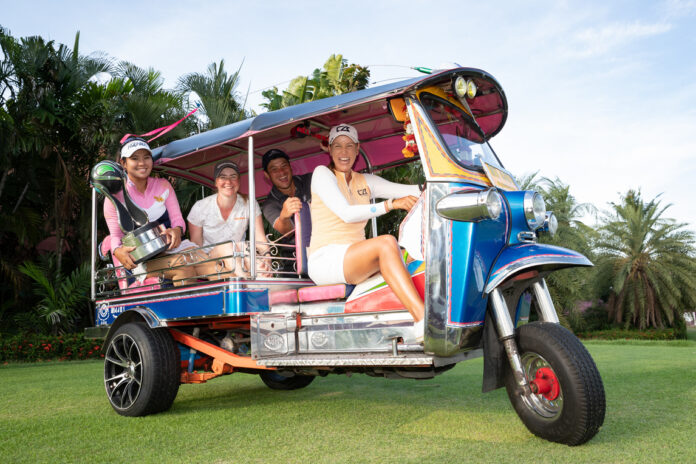 May 13, Bangkok:
 Australian-Thai star Whitney Hillier captained her mixed fourball to a three-shot victory in the Ladies European Tour's debut Aramco Team Series – Bangkok presented by Public Investment Fund.
Team Hillier, captained by the Australian, whose mother is Thai, led by one after strong opening round performances from Hillier, team-mate Krista Bakker of Finland, and the group's amateur player, Bangkok businessman Pattanan Amatanon.
However, it was the team's third professional player and other Bangkok local, Chonlada Chayanun, who led the charge on Friday's deciding day, shooting a five-under-par 67 to help secure the fourball victory in the first ATS event of the season.
"I'm so proud of my team," said Hillier, after securing the first victory of her ten years competing on the Ladies European Tour.
"Even from the start of yesterday morning we just had a good vibe. Like everything just flowed and obviously, we played great golf, but we had a lot of the fun, so that was the most important thing too.Â
"I'm just very, very proud of my team. To get this win is very, very special."
The 31-year-old added: "This is my tenth year on Tour, and for my first win to be in a team event, that's pretty cool. It's incredible. Yeah, I just loved every minute. I've been patient, but it's worth the wait. I'm just now looking forward to tomorrow, too!"
Teammate Chonlada Chayanun – whose home course is the tournament track, Thai Country Club – said: "Everything was perfect today. I made so many pars and had like eight birdies, so that was my secret!
"I got so much good energy from my team. They are really supportive, so just made me keep going. I'm just happy. I never thought about winning and we did it as a team, so just really happy. I'm so proud of my team."
This was a second Aramco Team Series victory for Krista Bakker, who triumphed at last year's closing event of the Series in Jeddah.
"It's great to be here again," said the 28-year-old Fin. "We had so much fun, and as Whitney said, yesterday we started to play right away and started making birdies.
"This win was a bit different [to Jeddah], as in Saudi we had a play-off. But it's very special and it's great to be here winning in Bangkok."
The team will split the lion's share of the Aramco Team Series – Bangkok's $500,000 team prize fund, while Saturday's closing round of play will settle the event's individual contest, which will also split $500,000 prize money.
Thai star Patty Tavatanakit leads that at nine-under-par – two strokes ahead of England's Felicity Johnson and Manon De Roey of Belgium.
"I feel pretty good," said world #13 Tavatanakit, who was adamant she can play far better than her Friday afternoon three-under-par 69. "Walking off the course without my A-game and being on top of the leaderboard is always a nice feeling. If anything, it gives me a little bit of confidence that I left a lot out there and a lot of things could be improved tomorrow.
"I just didn't really have the right flow, momentum. But I kind of stayed patient and couple of putts dropped at the end, so it helped a lot."
The Aramco Team Series – Bangkok climaxes tomorrow, with the top 60 players and ties going head-to-head in the conclusion of its individual format, where big names including the likes of Anne van Dam (NED) and Ariya Jutanugarn (THAI) sit closely behind the leading three.Â
For more information, visit www.aramcoteamseries.com
The preceding is a press release published with full permission and authorization by the organization(s) listed in the PR material and TPN media. The statements, thoughts, and opinions of the organization involved in the press release are entirely their own and may not necessarily represent those of TPN media and its staff.