Rayong-
Promising teen Chanettee Wannasaen remained on course for her third straight Thailand Mixed hosted by TrustGolf title after she established a convincing nine-shot lead during the third round actions at Rayong Green Valley Country Club on Saturday.
While the rest of the field was struggling at the tricky layout, the 18-year-old made it look so easy to shoot scores as she fired eight birdies with one bogey on the 15th hole for a third-round 64 and 15 under-par-198. She left a daunting task for Parinda Phokan and Sangchai Kaewchaoren, each with 207, to catch up with her in Sunday's final.
"I hit the approach shots close to the pins and made several easy birdies at the front nine. But the back nine is still a challenge for me," said Chanettee who crafted six birdies before the turn.
With a huge lead going into the final round, the red-hot teenager stands a great chance at winning three successive Thailand Mixed series which will make her the first player to win three times on the Tour. Currently, she and Prom Meesawat are the only multiple Thailand Mixed winners, each with two wins.
"I will try to stay at the present, not thinking too much about the outcome. If I'm not focused on my game plan, I may commit errors I shouldn't have like I did in the second round. I will stick to the same routine and play carefully. I expect the pin positions will be tougher in the final round," Chanette added.
Parinda, who started the day by following Chanettee with just one stroke, proved less accurate with her putting game. Two bogeys, one double bogey on the 15th hole against three birdies saw her finish with a 72 on six under-par-207.
"I was out of my rhythm and struggled to hit the greens in regulation. I need to fix my approach shots and hope to raise my game in the final round," said the 2017 Thai LPGA Tour No 1.
2021 Thailand PGA Tour Order of Merits winner Sangchai was one of a few players who enjoyed a bogey-free round. He carded four birdies for a 67.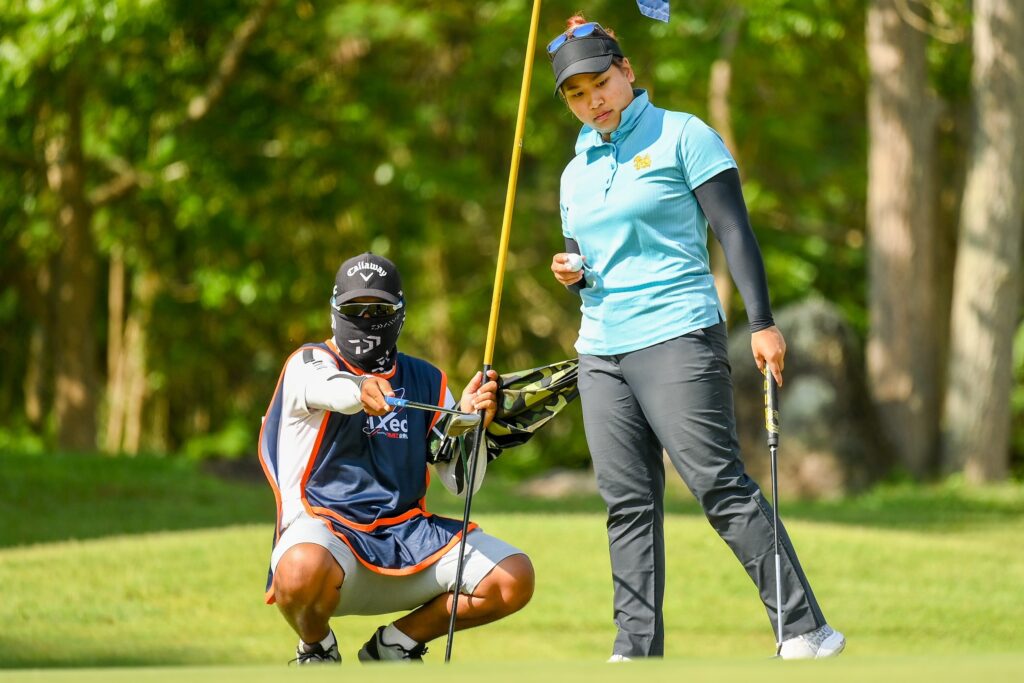 Young gun Denwit David Boriboonsub fell a stroke behind on five under-par-208.
With four birdies against a bogey for a 68, former champion Arpichaya Yubol followed by one stroke on 209. She must finish ahead of Trichat Cheenglab ( on a total of 214) on Sunday to earn one of the two slots into the Women's Scottish Open. The other slot has already been secured by Chanettee as the current leader on the Thailand TrustGolf Tour Order of Merits.
Fans can watch live coverage of the third Thailand Mixed either on AIS Play APP or TrustGolf Facebook and Youtube.
The Thailand Mixed is organized by TrustGolf, an indoor training center with advanced technology. It is supported by the Sports Authority of Thailand, the National Sports Development Fund, the Ministry of Tourism and Sports, Bangkok Bank, B.Grimm Company, Bond Holdings, AISPLAY, Bridgestone, Trust Pharmacy, Trust Live Streaming, Adidas Golf, the Center for Covid-19 Situation Administration and Rayong Green Valley Country Club in Rayong.
About TrustGolf
TrustGolf, an indoor training center with advanced technology, has supported international tournaments including the "TrustGolf Women Scottish Open", a Ladies European Tour co-sanctioned with the LPGA Tour event between 2021-and 2025. A great number of world-leading golfers signed up for the event which helped promote a good image for Thailand. Moreover, Thai female players, under the support of TrustGolf, were given the opportunity to compete in the European event.
Between 2020-and 2021, apart from five Thailand Mixed series hosted by TrustGolf, TrustGolf Tour also organized the TrustGolf Amateur Qualifier 2021 which selected players to compete in the IMG Academy Juniors World (San Diego and Florida Challenge) and the Men's and Women's Amateur Asia Pacific. In 2022, TrustGolf will host a total of five Thailand Mixed hosted by TrustGolf events (with a total of Bt17 million prize money). TrustGolf also organized two TrustGolf Asian Mixed events, tri-sanctioned by the Asian Tour, Ladies European Tour, and TrustGolf Tour (overall prize money of US$1.5 million prize money) at the Siam Country Club Pattaya Waterside in April. Furthermore, there will be the TrustGolf Link Series which will serve up as the Access Series for Ladies European Tour which also includes the TrustGolf Scottish Open (US$2 million prize money).
The preceding is a press release published with full permission and authorization by the organization(s) listed in the PR material and TPN media. The statements, thoughts, and opinions of the organization involved in the press release are entirely their own and may not necessarily represent those of TPN media and its staff.