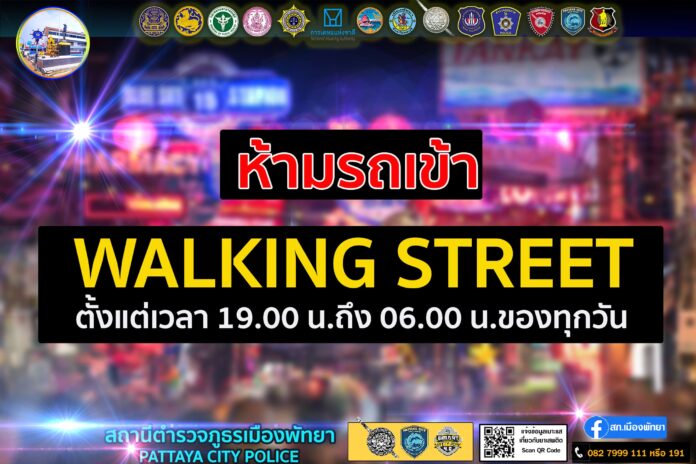 Pattaya-
In a cautious sign that things are slowly improving in Pattaya, city law enforcement announced yesterday that effective from Thursday, April 28th, Walking Street will live up to its name once again, shutting to vehicle traffic nightly.
The street had been allowing vehicles at all hours since 2020 during Covid19 due to many venues still being closed and restrictions on tourists and entertainment venues.
However, in recent weeks many more "restaurants" have opened and announcements that in May test and go will be removed for international visitors and hours to serve alcohol will be extended to midnight have caused authorities to make the call to close the street once again at night.
Technically, bars and nightlife remain legally closed due to Covid19 restrictions unless they convert to restaurants, however, in reality many venues have been reopening and the rules have been easing for some time.
Indeed, especially on weekends, the foot traffic to Walking Street had increased significantly, causing problems as people tried to veer around vehicle traffic.
Therefore, from 7:00 P.M. TO 6:00 A.M. nightly the street will shut to vehicle traffic once again.
The announcement was greeted with mostly positive feedback on social media, TPN notes. Additionally, tourist police and foreign police volunteers will return to the street to provide assistance to those in need and answ