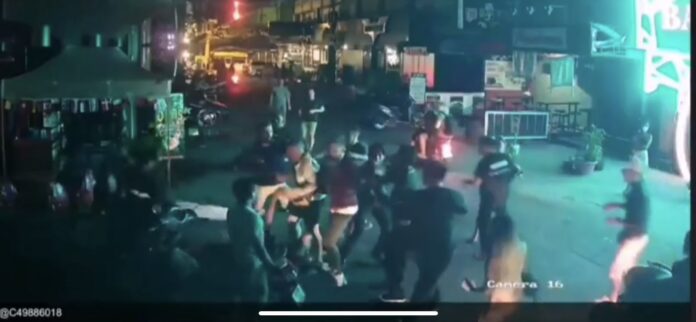 Pattaya –
Guards at a "restaurant" in Pattaya allegedly attacked an Italian man and a Thai woman early Thursday morning (April 14th) .
TPN uses the word restaurant for the purpose of this article as legally all nightclubs and bars are closed by Thai law due to Covid-19 restrictions, however, have been allowed to open as converted restaurants in the meantime.
Ms. Waranya (last name withheld), 35, and Mr.V (an alias), 32, an Italian national, filed a report to the Pattaya City Police yesterday, April 14th.
Mr. V told police that at about 2:15 A.M. on April 14th, he and his Italian friends and Thai friends were sitting in front of a closed "restaurant" in Soi LK Metro (Near Soi Buakhao).
About five male guards, according to the victim, attacked Mr. V who was allegedly sitting on a motorbike. He sustained injuries to his mouth and head, with a severe injury to his lip.
Ms. Waranya told police that the couple had been in a "restaurant" (modified nightclub) earlier on LK metro but claimed to have no arguments or problems with anyone inside.
She was on the back of Mr. V's motorbike during the incident. The couple were chatting with friends from a nearby bar when they claimed a group of men attacked them for no reason while brawling with others. The couple dropped their motorbike before running away on foot.
Yesterday afternoon, (April 14th) CCTV footage from the nearby area was released by Pattaya Police. CCTV footage appears to show a group of people on motorbikes stopping on LK Metro before getting into an argument and physically fighting.
After the initial fight, a group of men wearing black tops which were similar to security guards entered the brawl. Finally, a third group of men, possibly Thai nationals, joined the chaos. It was during this chaos that the victims were injured nearby.
Last night, April 14th, around 6:00 P.M., the Pattaya City Police Colonel Kunlachart Kunlachai called all people to the police station who had been allegedly involved in the incident. Multiple people, including "restaurant" security, reportedly admitted they were the people in the CCTV footage in the fighting. However, the security guards told Pattaya Police that the incident was after bars and nightclubs were closed and had nothing to do with the business as they were technically off-duty but staffers and customers were still in the area.
One of the guards, who wasn't identified, told Pattaya police that the incident started from two parties of foreigners arguing and fighting. They (staffers and guards from the "restaurant") tried to stop the fight but claimed the foreign tourists involved attacked the guards, causing the security to defend themselves.
The guards are apologizing for the incident and have reportedly agreed to be charged with legal action. It is unclear if the venue where they work will face any legal action and the guards stated they were acting on their own and not as employees.
Colonel Kunlachart told TPN media, "This is a confusing incident and we have had multiple stories about who was responsible and what the argument was about. Not all the foreigners involved are cooperating fully with their statements and there are multiple conflicting statements between some parties on the cause of the argument. However, all suspects in this incident will be facing charges of attempting to cause bodily harm and assault. Police should be immediately called when there is a dispute between tourists or a customer escalation and security should never get physically involved with a tourist."
Colonel Kunlachart did not release the names of the suspects or the venue where the security guards worked, citing an ongoing investigation.
=-=-=-=-=-=-=-=-=-=-=-=-=-=–=–=–=–==-
Don't forget to subscribe to our newsletter and get all our news delivered to you in one spam-free daily e-mail Click here! OR, enter your e-mail below!