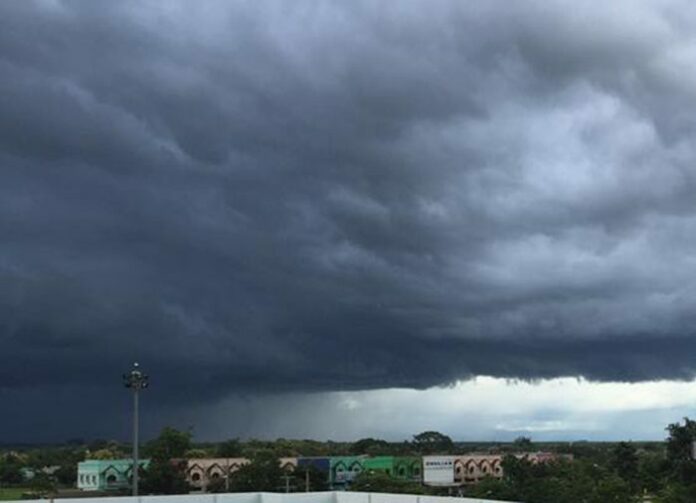 National – 
  The ongoing unseasonal cold in most upper parts of Thailand is not attributable to the polar vortex, but to a relatively strong cold air mass coming from China, the Thai Meteorological Department says.
The Thai Meteorological Department has issued an official notice on their Facebook page today, April 4th, 2022, to clarify an online misconception about the ongoing unusual cold that some claimed was caused by a polar vortex, stating that "the drop in temperature ranging from April 1st to April 3rd is not caused by a polar vortex, but rather a relatively strong cold air mass that extended from China"
During the day, most of upper Thailand's temperatures range from hot to very hot, and thunderstorms are relatively common. The high pressure and cold air mass that used to cover upper Thailand usually weakens and recedes to China in winter, but depending on the strength of the air mass, it can periodically re-extend to upper Thailand, resulting in inclement weather, thunderstorms, strong winds, and a drop in temperature as seen.
The polar vortex, which has been widely discussed on the internet, has no effect on Thailand because the Himalayas block the wind caused by the polar vortex, making it difficult for wind from the north pole to reach Thailand, the Thai Meteorological Department says.
The northern, central, and eastern regions, including Bangkok, are expected to face a 2-4 degree drop in temperature and strong winds, and 1-3 degrees in the northeast over the next several days, especially overnight.
People in the affected areas are urged to take care of their health, and farmers need to be vigilant about their crops which might be damaged by the weather.
Southerly low-pressure areas may also experience increasing rain and heavy rain; therefore, people should be on the lookout for flash floods.
The wind waves in the Gulf of Thailand are moderate, and the upper Gulf areas may experience a 2-meter-or-higher sea wave, so sailors should take precautions or refrain from sailing on a stormy day.
For further information, please see https://www.tmd.go.th/ or dial 0-2399-4012-13 plus 1182. The line is open 24 hours a day.
=-=-=-=-=-=-=-=-=-=-=-=-=-=–=–=–=–==-
Join the discussion in our Facebook group https://www.facebook.com/groups/438849630140035/or in the comments below.