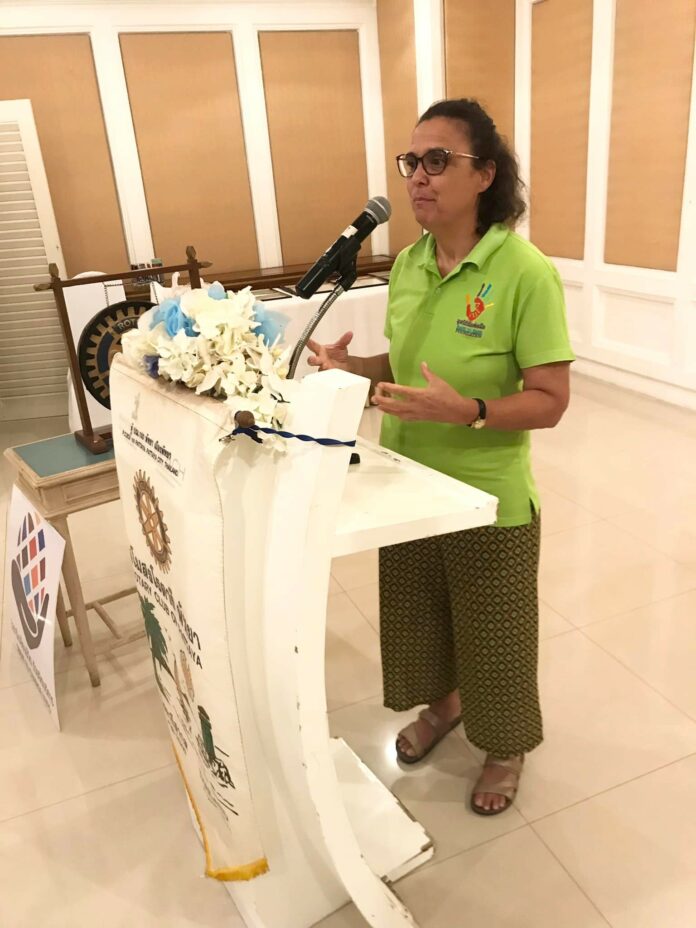 Pattaya, Thailand-
  The Rotary Club of Pattaya, Pattaya's oldest club founded in 1972, held its regular meeting Monday, March 21st, 2022 at the five-star Royal Cliff Hotel in Pattaya, Thailand.
The meeting was highlighted by a vocational talk from Rotarian Margaret "Margie" Grainger, she talked about how she was confronted with people in need during her stay in Thailand, and how she sold all her belongings to start the 'Hand2Hand Foundation'. She also explained our club's ongoing projects: 'Dreambox Project', 'Collection Containers Of Used Clothes' and 'The Eyeglass Project'.
  Other highlights from the meeting included:
Rotarian Alexandra gave an update on the 'Live Love workshops for social workers at the Human Help Network'. Rotarian Trevor gave a report from the T-shirt sales at the 3350 District Conference. Rotarian Udo Schrieber of the Rotary Club of Nongkhem visited, as did the following non-Rotary members: Aharon Cohen with wife, Naresh Chander, Deo Kumar Singh, Nnamdi Samuels, and Rotarians Mary Kelly and Tong Feng. President Niels Colov explained the Attendance rules of Rotary and also presented Membership Certificates to Rotarians Jahangir and Harjeet.
The next meeting will be on Monday 4. April, 18.30 pm and will have an interesting guest speaker Khun Saranporn "Ta" Taweemongkonchai talking about the 'Children of the Forrest' project on the border between Thailand and Myanmar.
The Rotary Club of Pattaya, which celebrates its 50th anniversary this year, will have top-quality guest speakers every month in the new year, and members will be able to invite friends to join these special meetings at the gorgeous five-star hotel.
About the Rotary Club of Pattaya
For more information on the Rotary Club of Pattaya, 
please click here. This is a link to the club's fairly new website and detailed information for those interested! 
For more information on what Rotary is overall, 
please click here.
In their own words here is a brief overview of what Rotary does for the community:
Rotary is a global network of 1.2 million neighbors, friends, leaders, and problem-solvers who see a world where people unite and take action to create lasting change – across the globe, in our communities, and in ourselves.
The club has its regular meetings on Mondays twice a month at the 5-star Royal Cliff Beach Resort in Pattaya at 19.00 pm. (Fellowship starts at 18.30 pm). Guests are welcome if you wish to hear how you can help out in the local community or inquire about joining the Rotary Club of Pattaya. For questions or concerns, the contact person: President Niels Colov: 08-9911-1199 The upcoming meetings are: The regular meetings according to the By-Laws of the club for the 'Rotary Club of Pattaya', for the second half of the Rotary year (from 1. January to 30. June 2022) will be the following Mondays:  4/4, 18/4, 2/5, 16/5, 6/6 and 20/6.