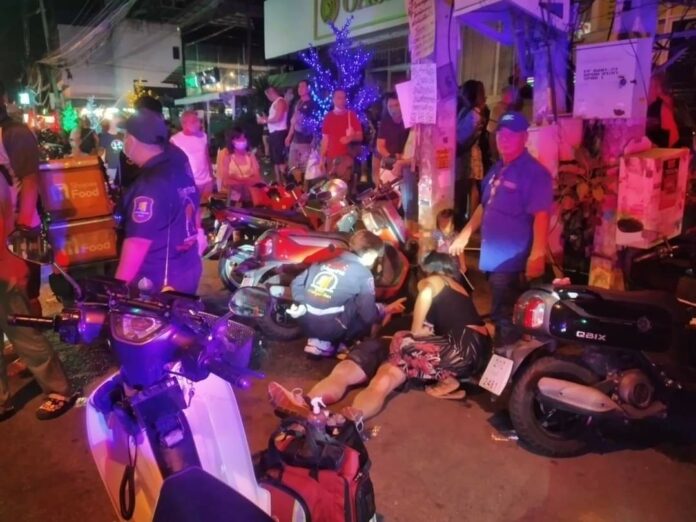 Treetown, Pattaya-
A 58-year-old foreign tourist, reportedly Irish, was allegedly attacked by several security guards in front of the Treetown entertainment complex area in central Pattaya last night following a dispute over a bill.
The guards, however, claimed the man refused to pay a bill and tried to flee and when he was stopped attempted to fight the guards and then accidentally fell.
The incident took place around 11:30 P.M. after Pattaya City police, rescue workers, and local media responded to the front of Treetown, a sprawling entertainment area in central Pattaya.
First responders from Sawang Boriboon found the 58-year-old man, reportedly an Irish tourist, bleeding heavily from a wound to his skull and confused. He was given first aid treatment at the scene and taken to a local hospital for further aid. TPN media has decided to withhold the injured man's name at this time.
A large crowd was present at the scene but many witnesses were reportedly not cooperative with police over what happened. Eventually, a pair of Australian tourists spoke to Pattaya police and claimed that the victim had been chased by several security guards from the Tree Town complex who got into a physical altercation with the victim. The victim fell after the altercation, hitting his skull and causing bleeding and his injuries, according to the witnesses. The witnesses were not clear on who started the altercation.
Pattaya Police located the two security guards in question, whose names were not immediately released pending an ongoing investigation.
According to the two security guards, the victim had refused to pay a bill at a treetown venue and then tried to flee. The guards claim they tried to stop the man, giving chase and blocking his path, but the man was the aggressor and shoved them first. The guards claimed they only responded in self–defense, trying to calm the man down, which caused him to accidentally fall and damage his head.
Pattaya police admitted they were skeptical of the guard's story and wanted to review CCTV and speak with the Irish tourist later today once he recovers from his wounds. At that point, they will decide on any legal charges to be made stemming from the incident.
TPN notes this is not the first incident at the Tree Town market involving fighting and security staff, as seen below.
https://thepattayanews.com/2022/01/03/one-person-dead-several-injured-and-flee-after-violent-brawl-at-tree-town-market-area-say-pattaya-police/
Photos: Pattaya Message.