Samut Prakan –
A woman was found hiding with her underwear lying on the floor nearby at the cubicle of a respected local monk abbot at Wat Bang Ya Phraek in Phra Pradaeng district, Samut Prakan last night, February 9th.
A large crowd of local residents and reporters had stormed the residence of abbot Phra Samut Prasartporn Mahapun yesterday around 8:30 PM., led by Jeeraphan Petchkhao or a famous shaman "Mor Pla", as they were upset after hearing that there was a woman who entered the abbot's quarters since the early evening and had not left the place yet.
In Buddhism, as one of many rules and vows, monks vow to stay celibate, which is one of four principal transgressions which entail expulsion from the monastic Sangha.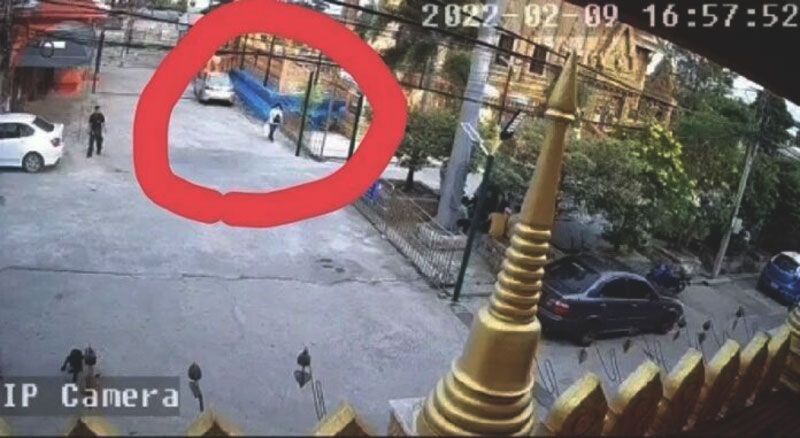 Mor Pla, who also went live on his Facebook page last night, said that the raid took place after receiving complaints from villagers in the area that there was a woman who often visited the abbot at his cubicle at dawn.
Samut Prakan police later arrived at the place and asked the monk to open the door. He then led the officials inside, followed by the crowd, and insisted that there was no woman in his residence.
However, local reporters spotted a female hairband on his bed. The monk reportedly claimed that it was his. He claimed he often used it to relieve headaches and demonstrated to them how he did it.
The examination went on and led to another reporter finding a bra on the floor under the stairs near a rack that was covered by his monk robe. When the reporters opened a wardrobe, a woman, whose identity was withheld by authorities, was found crouching and shivering in fear under the rack.
Moreover, several bottles of alcoholic beverages were reportedly discovered in the refrigerator and hidden under an amulet base. One of them was recently opened. Monks also vow, notes TPN media, not to drink alcohol.
Reportedly, a little chaos began when villagers were cursing and attempting to approach the woman. More police forces were deployed to escort the abbot and the woman to the police station for questioning.
Phra Samut Prasartporn Mahapun claimed to the police that the woman was his relative but later agreed to leave the monkhood. When being asked by reporters why the woman was not wearing underwear, he did not state anything further. He has continued to deny all charges.
Photo Courtesy: Naewna
-=-=-=-=-=-=-=-=-=-=-=-=-=-=–=–=–=–==-
Need Covid-19 insurance for your next trip to Thailand? Click here.
Follow us on Facebook
Join us on LINE for breaking alerts!