Bangkok –
A food delivery motorcyclist was facing legal charges after being caught on CCTV bumping into a pedestrian while riding illegally on a footpath in Bangkok on Monday, February 7th, before returning to the scene and attacking the man.
The footage captured the moment the motorcyclist was having a heated argument with a pedestrian on the footpath in front of a shop near Soi Saimai 78, telling the man to walk more carefully, despite the motorbike rider driving illegally on a footpath. The rider reportedly approached and started attacking the pedestrian by punching and stomping him to the ground.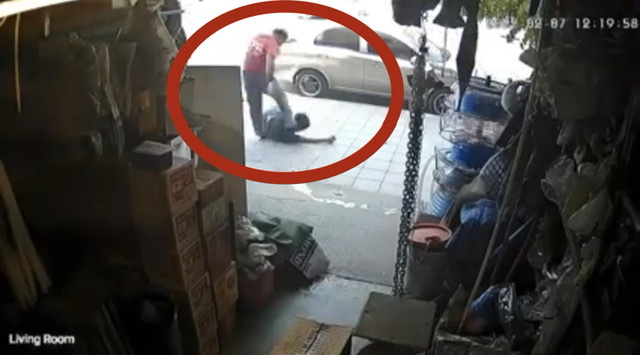 The victim, named Isara Ratthonglang, 26, arrived at the Sai Mai police station to report the incident to the officials. According to his statement to the police, he went to buy construction equipment and was walking out from the shop around 1:00 PM. when the food rider was riding a motorbike on the sidewalk at a high speed and hit him.
The rider then reportedly stopped his bike, walked towards him, and rudely said that Isara walked without looking for vehicles. So, he replied that he was walking on the sidewalk and it was the motorcycle's job to look out for pedestrians and that he should not be on sidewalks.
The argument continued and Isara said that he was going to call the police. However, the motorcyclist then got off his vehicle, took off his food-delivery uniform jacket, and started physically attacking the man. He was injured with scratches on his arms while his ear and his left eye were bruised.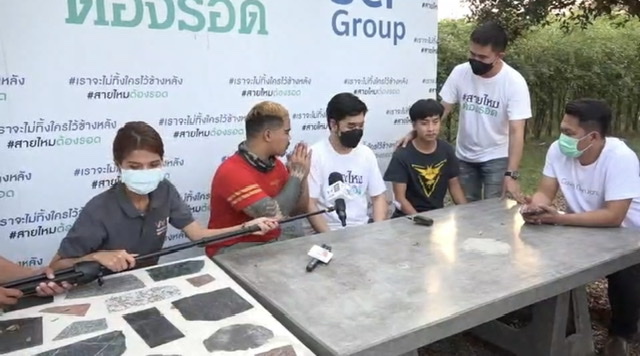 Later, food rider Boonrit Thong-iam, 20, arrived to meet his party and officials at the police station and reportedly admitted to his aggressive behaviors. He said that he apologized for his actions and he was too impulsive.
He stated: "I would like to apologize for being too impatient and putting other rider colleagues into trouble. I wanted to apologize from the bottom of my heart as a man for causing this one-time incident. The reason for driving on the sidewalk was because I was hurrying to get orders in that area. Now, the food delivery agency had already suspended me from getting orders."
Meanwhile, the food delivery company released a statement that said that the driver, Boonrit, was not actually an employee and had instead "borrowed" a friend's ID and jacket to make extra money. They have reportedly terminated the friend, who was not identified and are considering legal action against Boonrit and/or his friend due to reputational damages suffered by the company.
Photo Courtesy: Manager Online
-=-=-=-=-=-=-=-=-=-=-=-=-=-=–=–=–=–==-
Need Covid-19 insurance for your next trip to Thailand? Click here.
Follow us on Facebook
Join us on LINE for breaking alerts!