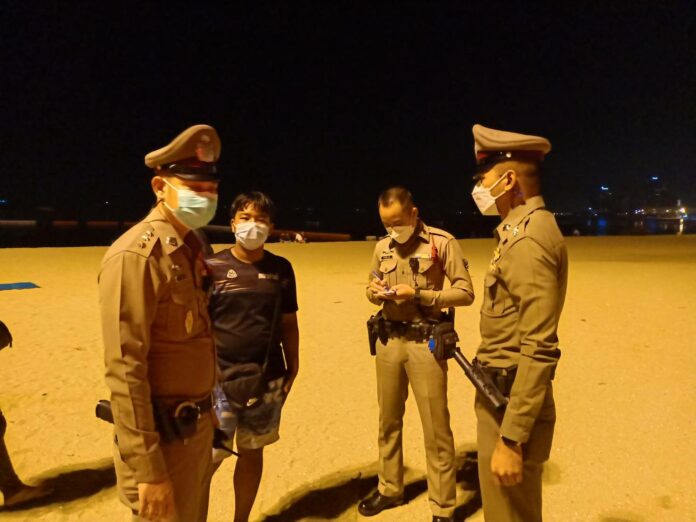 Pattaya Beach, Thailand-
An unidentified young man, believed by Pattaya Police to be a Thai national, was badly beaten while on Pattaya Beach late last night, January 26th, 2022.
The man was discovered by a beach mat vendor at around 11:30 PM lying in a puddle of his own blood with severe facial injuries on Pattaya Beach not far from Central Festival Shopping Mall.
The mat vendor, Prajai Rodmuang, 30, told first responders from the Sawang Boriboon Foundation that he heard several people yelling and arguing about money prior to the incident but stated he did not clearly see the altercation. After he heard shouting he rushed to the vicinity of the incident and found the unidentified man, believed to be around thirty-years-old, lying on the beach severely injured. Prajai immediately called police and emergency services for assistance. A total of three men, believed to have been the aggressors, fled the scene.
Pattaya Police stated to TPN media that they would be reviewing CCTV to determine the sequence of events and what had happened. The victim was rushed to a local hospital where he remains as of press time. His current condition was not released by medical personnel, although they did state he also appeared to be severely intoxicated and a blood test would be conducted.
This is the second incident involving a person allegedly attacked on Pattaya Beach in the past several weeks. A Swedish man was reportedly attacked while drinking a beer alone on the beach earlier this month. Click here for that related story.
TPN staff will update this story if further information is released by Pattaya law enforcement.
Update 4:00 AM- Pattaya police identified the victim as Mr. Anon Sriluesak, 27-years- old, a Thai national.