Bangkok –
A young Thai female doctor was tragically killed after being hit by a big bike, driven by a police officer, while walking across a crosswalk in front of the Bhumirajanagarindra Kidney Institute Hospital on Phya Thai Road of Bangkok on Friday, January 21st.
The victim, Waraluck Supwatjariyakul, a doctor at Chulalongkorn Eye Centre at the Department of Ophthalmology, had reportedly lost her pulse at the scene before being pronounced dead shortly afterward as of 3:10 PM. The suspect also reportedly left the scene of the accident on foot, which led to widespread scrutiny and anger on Thai social media.
Bangkok police then inspected the nearby CCTV which showed the moment when the doctor was crossing the crosswalk and was about to reach the end when the Ducati motorcycle rider was driving at a high speed and hit the pedestrian directly. The Ducati motorcycle then slid further than 5 meters away from the scene.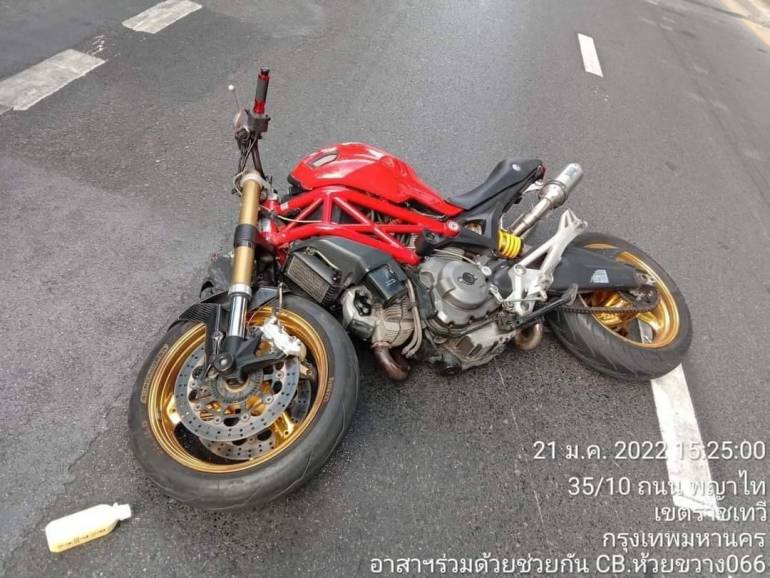 The rider was later identified as Police Lance Corporal Norawit Buadok by his superior officer, Pol Maj Gen Nakarin Sukonthawit, commander of the Protection and Crowd Control Division of the Metropolitan Police Bureau, and was slightly injured with several wounds and scratches. According to Phayathai Police, Norawit reportedly admitted to the charge of reckless driving causing death since the day of the incident and allegedly confessed that he was driving at a high speed. Norawit suffered only minor injuries and admitted himself to a hospital following the accident. Phayathai Police also stated that alcohol was not, according to them, a factor in the accident.
He has also reportedly admitted to the charges of driving a motorcycle without a license plate, riding a motorcycle on the left lane, and not following the signage on the road (did not stop his vehicle at a crosswalk) which violates the Land Traffic Act and of riding a motorcycle without paying annual tax, violating the Vehicle Act.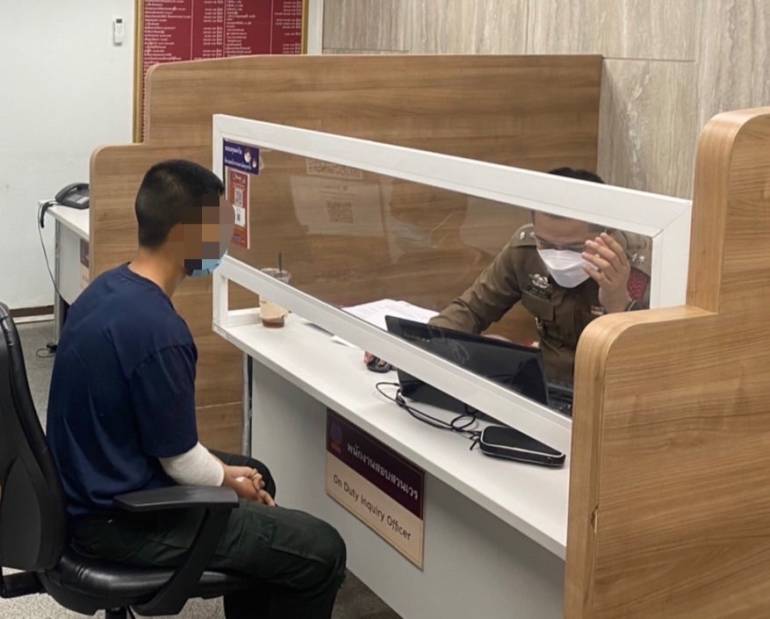 Norawit was released without collateral as, according to the police, he surrendered and evidently presented his primary address. However, Phayathai police said that they would continue the investigation to collect additional evidence and insist on fair prosecution of all allegations for the victim and her family.
Widespread outrage and anger have been expressed on Thai social media today with many believing Norawit should face much more serious charges. Pol Maj Gen Nakarin Sukonthawit and Bangkok police stated the case would be handled transparently and seriously without any favoritism. This statement was also met with scrutiny by netizens.
The incident has also led to renewed discussion around traffic rules and crosswalks in general in Thailand.
The Pattaya News/TPN National would like to express condolences to the victim's family.
-=-=-=-=-=-=-=-=-=-=-=-=-=-=–=–=–=–==-
Need Covid-19 insurance for your next trip to Thailand? Click here.
Follow us on Facebook
Join us on LINE for breaking alerts!