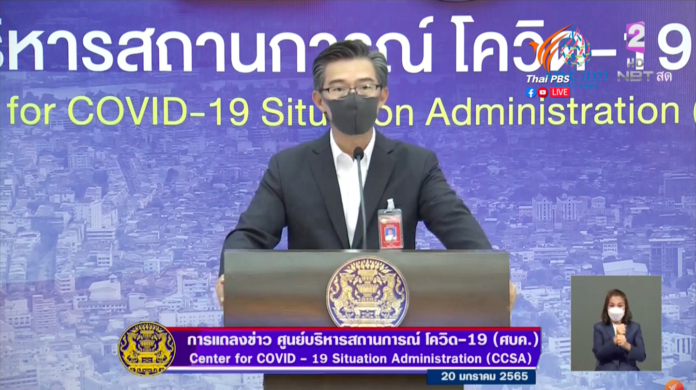 National –
The Center for Covid-19 Situation Administration (CCSA) has announced several major changes in domestic Covid-19 preventive measures, including provincial color rezoning, the extension of the Emergency Decree, and the return of the "Test&Go" scheme, CCSA spokesperson Taweesilp Visanuyothin reported this morning, January 20th.
According to the announcement, 25 provinces are now listed as high surveillance areas, or the Yellow Zone, from previously being designated controlled "Orange" zones, effective this Monday, January 24th. Under the yellow zone requirements, alcoholic beverages can be served at restaurants under the approval of the Provincial Communicable Disease Committee. Orange zones remain under "no alcohol" at restaurants rules. There are also multiple BLUE (Business, Leisure, Ultimate Experience) tourism areas that have their own special rules (see below), including some that are just districts or cities in orange or yellow zones.
TPN media notes that provincial governors and disease committees can alter these rules if they wish and provinces should wait for final orders from these groups.
Additionally, the Emergency Decree would be extended again for another two months, effective from February 1st to March 31st, according to the spokesperson. The Decree has been in place since April of 2020 and according to the government allows them to streamline processes in regards to the management of the Covid-19 situation in the country. Critics, however, have accused the government of using the decree to stop protests and political gatherings, which the government denies.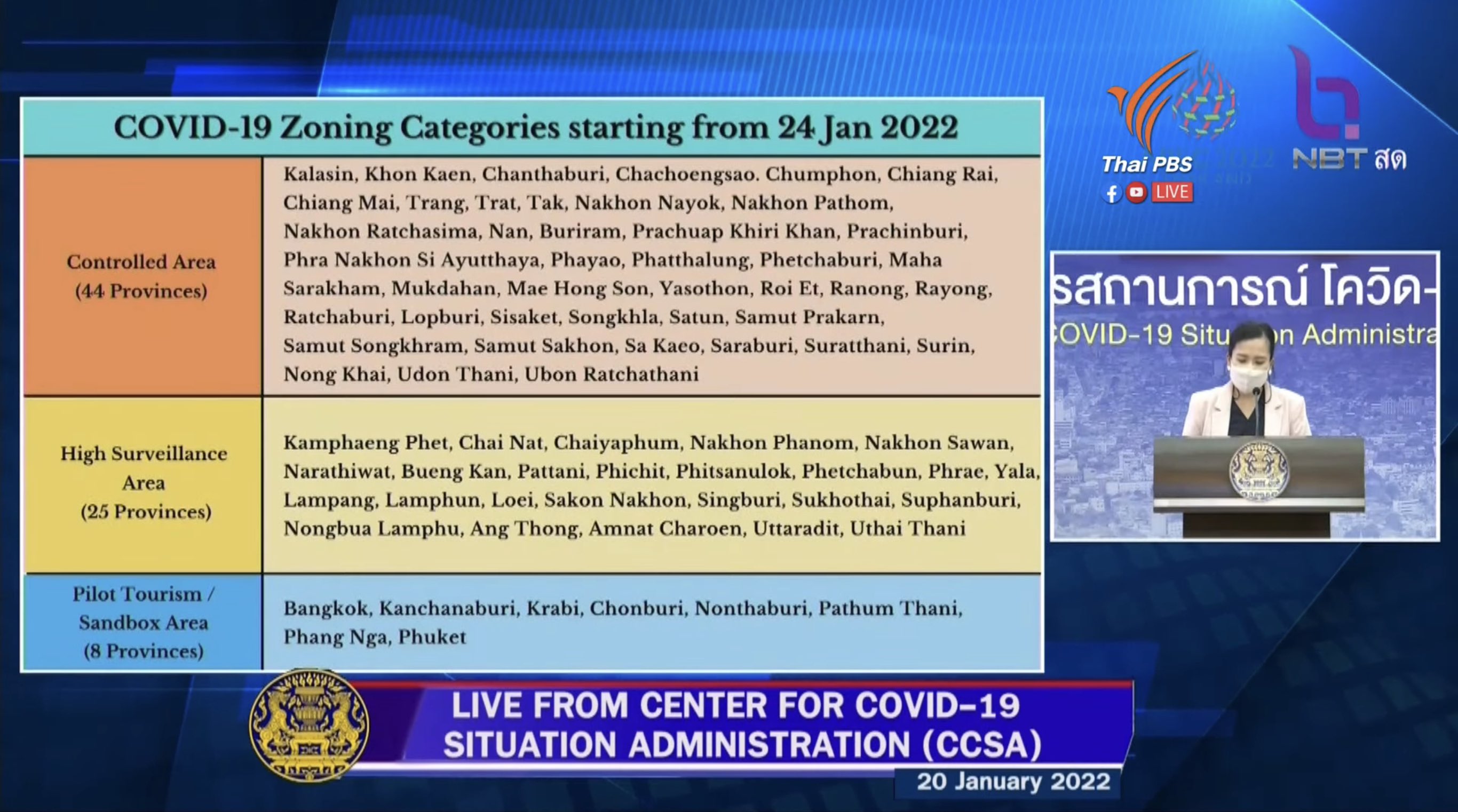 The alcohol drinking hours in the BLUE tourism pilot provinces and districts, including Chonburi (Pattaya) and Bangkok, would be extended from 9:00 PM. to 11:00 PM. only at qualified restaurants under SHA+ or Thai Stop COVID 2 Plus models. They must continue to abide by Covid Free Setting regulations of the Public Health Ministry. It appears the date for this would be the same as provincial color-code changes, Monday, the 24th of January. TPN notes this also needs approval from the provincial governor and disease committee, which will meet to discuss this proposal over the weekend.
Entertainment venues, like bars, pubs, and karaoke lounges, can be operated as temporarily modified restaurants but must request approval from Bangkok/Provincial Communicable Disease Committees before operating. There is no "announced" date for the reopening of this sector legally with officials stressing they will be "gradually and cautiously" reopening this sector as the CCSA feels it is a very high risk in regards to the spread of Covid-19.
The CCSA did state that when communicable disease committees and governors felt situations had resolved appropriately with Covid-19 that individual provinces have the potential to allow an expansion of opening hours and gradually relax former entertainment venues to a "normal" status.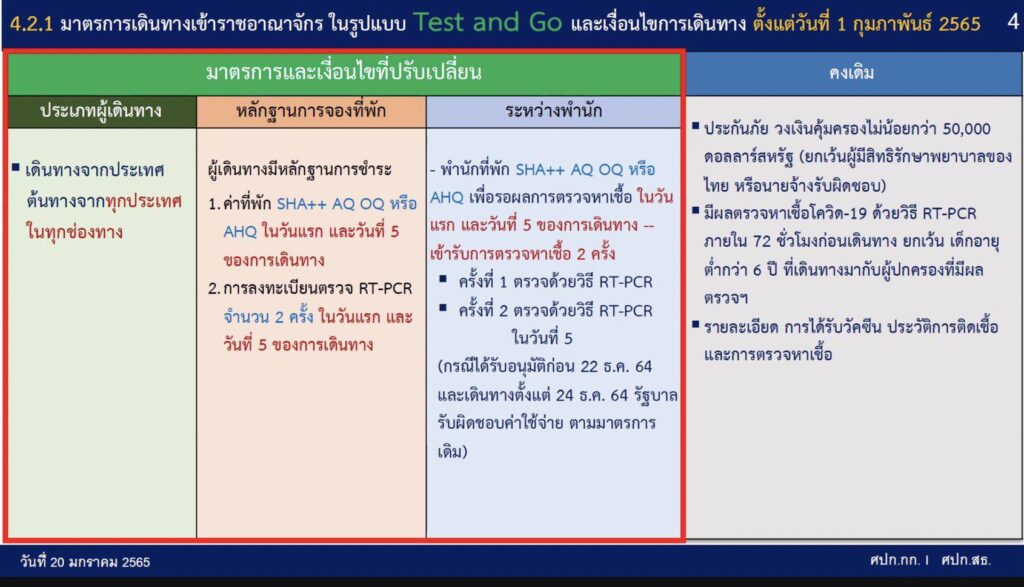 The CCSA also agreed to reimplement the "Test&Go" scheme for vaccinated international arrivals under nearly quarantine-free conditions. Two RT-PCR tests are required on Day 1 and Day 5 of the arrival. Travelers must stay at SHA+ hotels while waiting for the PCR results. These must be paid for in advance and there will be a system in place to ensure that tourists check into hotels, especially on Day 5. One will need to only stay at the hotel until the results of their test arrive. There does not appear to be a country restriction on the Test and Go program based on the preliminary information.
Upon arrival in Thailand, travelers must present receipt or booking records of the SHA+ hotels on the nights after the PCR tests. The registrations of "Thailand Pass" for entering the program under Test and Go would reopen on February 1st. You will not be able to register for Test and Go prior to this date. There was not a specific time announced for when this will open on this day.
The Test and Go program will need to be officially released as law in the Royal Gazette, like all major laws, before becoming "official".  Specific regulations will also be clarified when this happens, although there is not a "promised" date or time for the release of the changes and could be anytime before February 1st. 
For individuals interested in Sandboxes versus Test and Go, Chonburi (Banglamung, Pattaya, Sri Racha, Koh Sichang, Sattahip(only Na Jomtien and Bang Saray) will be added. Additionally, so will Trat (Koh Chang only), and additional travel links will be opened between Phuket, Krabi, Phang Nga, Surat Thani(Koh Samui, Phangan, Koh Tao). This is effective February 1st in terms of registration, but will also need to be published in the Royal Gazette. TPN notes that with Test and Go reopening there is not a significant difference between sandbox and test and go plans, although one needs to stay at a qualified hotel for their entire sandbox stay.
In other changes, high-risk contacts will now be isolated/quarantined for only 7 days versus previously having to be quarantined for up to fourteen days. They will need to have several negative rapid Covid-19 tests both before their release from isolation (Day 5/6) and after being released (Day 10). The guidelines for what entails a high-risk contact are also much more clear than before, specifying that to be considered a high-risk close contact one must have been with the positive case in question on the day of the onset of the illness or 2-3 days before the onset of symptoms in a closed place for more than 30 minutes. Not wearing masks during contact or close moments is also considered high-risk.
The CCSA is also focusing on further vaccination campaigns, especially in tourism provinces and in children aged 5-11 years old with parental permission, primarily with Pfizer.  Continued focus will also be on those who are elderly and vulnerable or have pre-existing conditions to get them vaccinated, especially in rural provinces that remain classified as orange by the CCSA due to concerns around levels of vaccination and hospital capacity in these areas.
Working from home for those able to do so, especially in government jobs, had originally been extended to January 31st but will not be extended further. However, individual government units or businesses could still extend this on a case-by-case basis.
In regards to required Covid-19 rapid antigen testing for customers in Banglamung and Mueang Chonburi, this is a PROVINCIAL order from the governor and not a national mandate.  Any changes to this would come from the governor and would not be announced at CCSA meetings. Covid-free guidelines suggest this for customers, however, it is only an order/mandate in parts of Chonburi currently.
This is a developing story and changes could be made to this article based on any further announcements or clarifications.
-=-=-=-=-=-=-=-=-=-=-=-=-=-=–=–=–=–==-
Need Covid-19 insurance for your next trip to Thailand? Click here.
Follow us on Facebook
Join us on LINE for breaking alerts!