Bangkok –
A group of parents arrived at the Ministry of Education yesterday, January 18th, 2022, to demand the cancellation of regular ATK (Rapid Covid-19) testing and the mandatory policy of wearing facial masks for students.
The adults, who had reportedly traveled from Bangkok and all over the country, were seen raising banners and messages written in Thai such as "Checking with ATK is a waste of money", "Stop forcing ATK testing", "Make Covid-19 endemic", "If you're forced to have your ATK test every week, how do you feel," etc.
One of the representatives, who only revealed her name as Natthamon, told local media that the parents and the school personnel have been affected by the strict policies and measures of the Ministry of Public Health. Some of them were not considered necessary, according to her, such as forcing asymptomatic students to have ATK tests.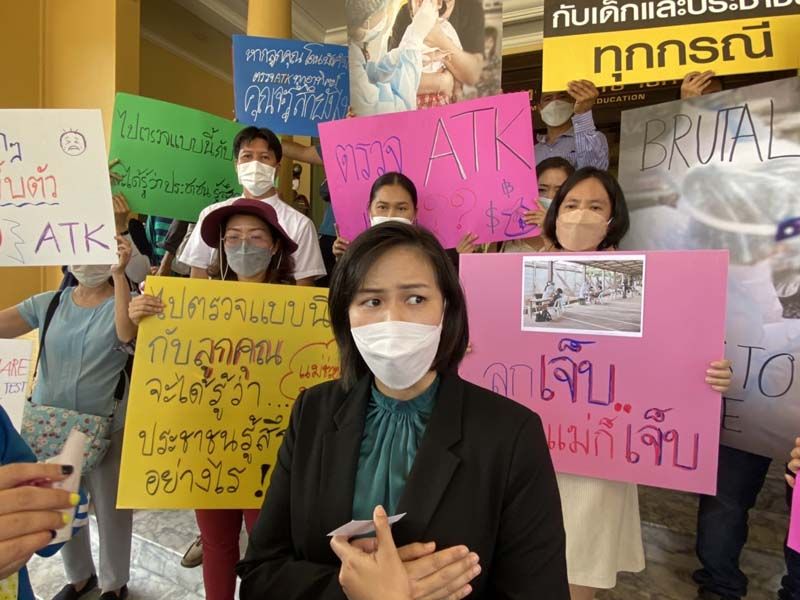 Natthamon stated to the associated Thai press: "When concerned parents saw that children were in pain during compulsory ATK testing, our hearts broke too. We don't think it is needed to be frequent and was not necessary. At the same time, wearing a mask should not be compulsory but should be voluntary, especially for young children who find them uncomfortable."
"We have been patient for more than two years. Previously, our children have studied online all the time. But when the schools were back for in-class study, the policy of regular ATK testing was obstructing education. And, we feel it is not necessary to test on people and children with good health conditions which contradicts the Ministry of Health's saying to make the virus endemic soon. We don't test for colds, flu, or other fevers weekly, or even daily like some schools are requiring, from people who are asymptomatic or don't appear to be sick." Natthamon continued.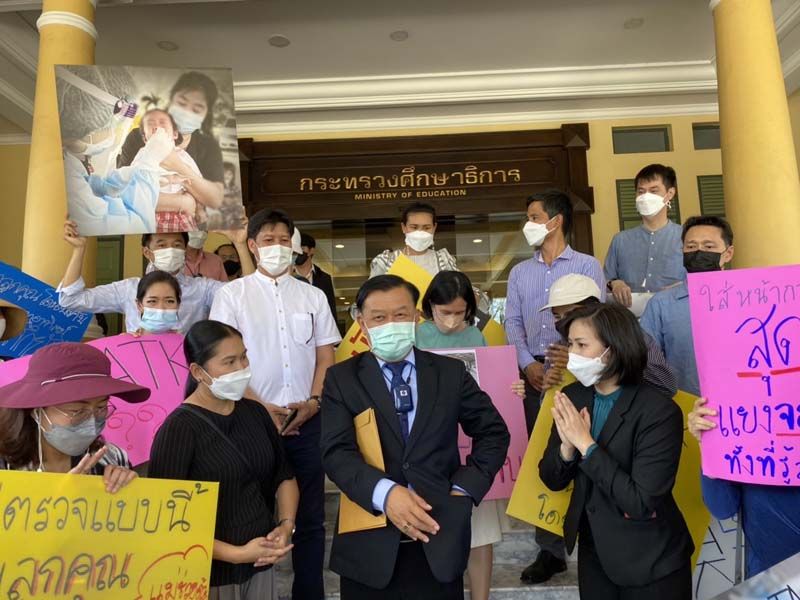 Therefore, the parents were urging the government to call off mandatory ATK testing on all children and only to conduct testing on those who were having suspicious symptoms as well as to accelerate the country's reopening without creating complicated conditions to discourage tourists in order to urgently revive the domestic economy.
A Ministry representative then reached out to receive a petition from the group before proposing it to Education Minister Trinuch Thienthong in the following step. There has been no indication if a public response will be given.
TPN media notes that testing policies differ widely based on schools, especially private schools, as well as with differing provincial rules.
Photo Courtesy: Naewna
-=-=-=-=-=-=-=-=-=-=-=-=-=-=–=–=–=–==-
Need Covid-19 insurance for your next trip to Thailand? Click here.
Follow us on Facebook
Join us on LINE for breaking alerts!