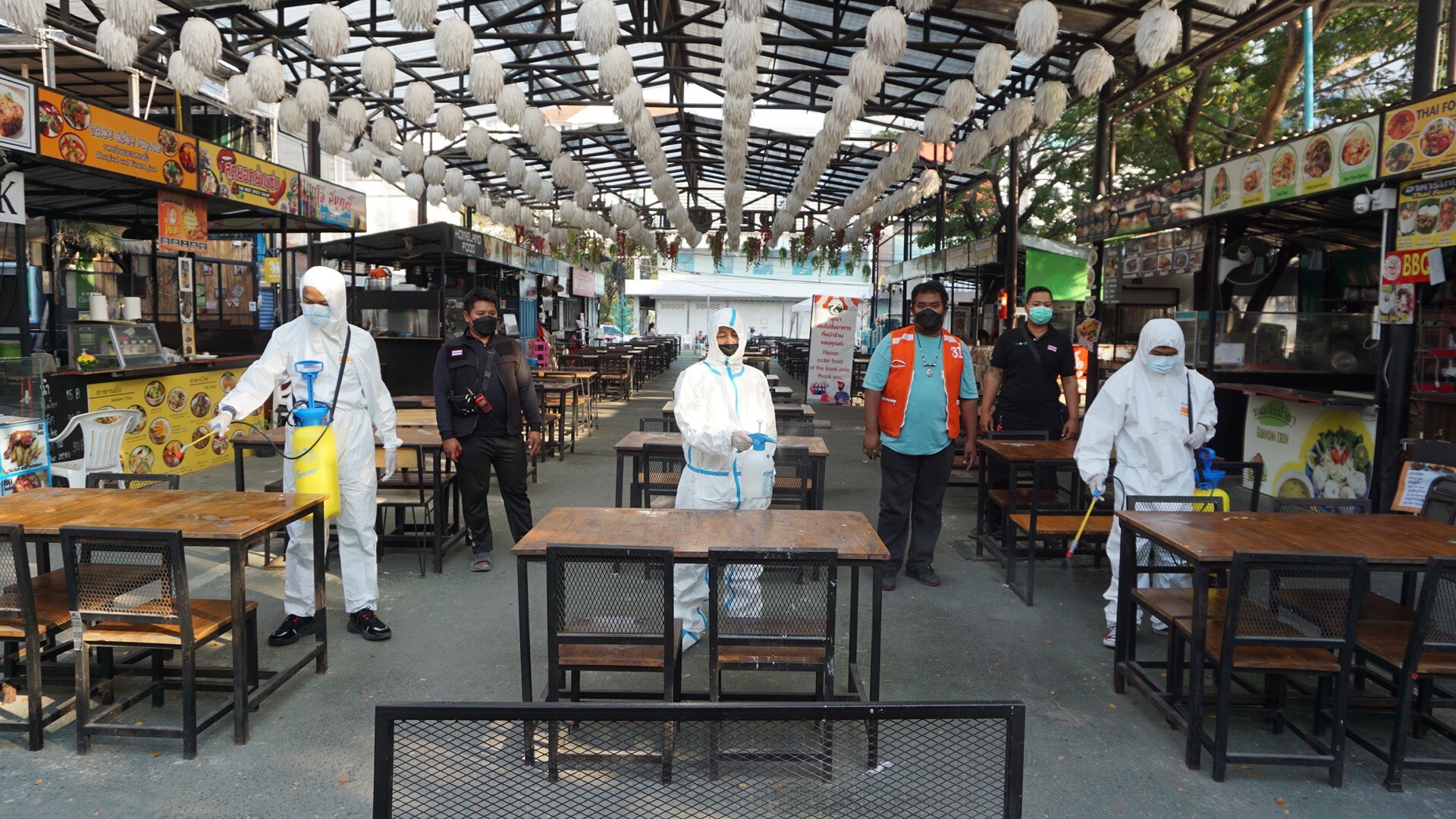 Pattaya –
A "big cleaning" was held at the Tree Town Market in Pattaya today (January 19th) while active Covid-19 case finding in Banglamung has continued.
Mr. Yuttana Santiprakun, 28, a security guard at the market, told TPN media, "There have been many confirmed cases of Covid-19 at the market, although almost all have been mild or asymptomatic. Therefore, a major cleaning was held today. This Friday (January 21st), the Pattaya Public Health Office will spray disinfectant at the market and surrounding areas before reopening the area to the public."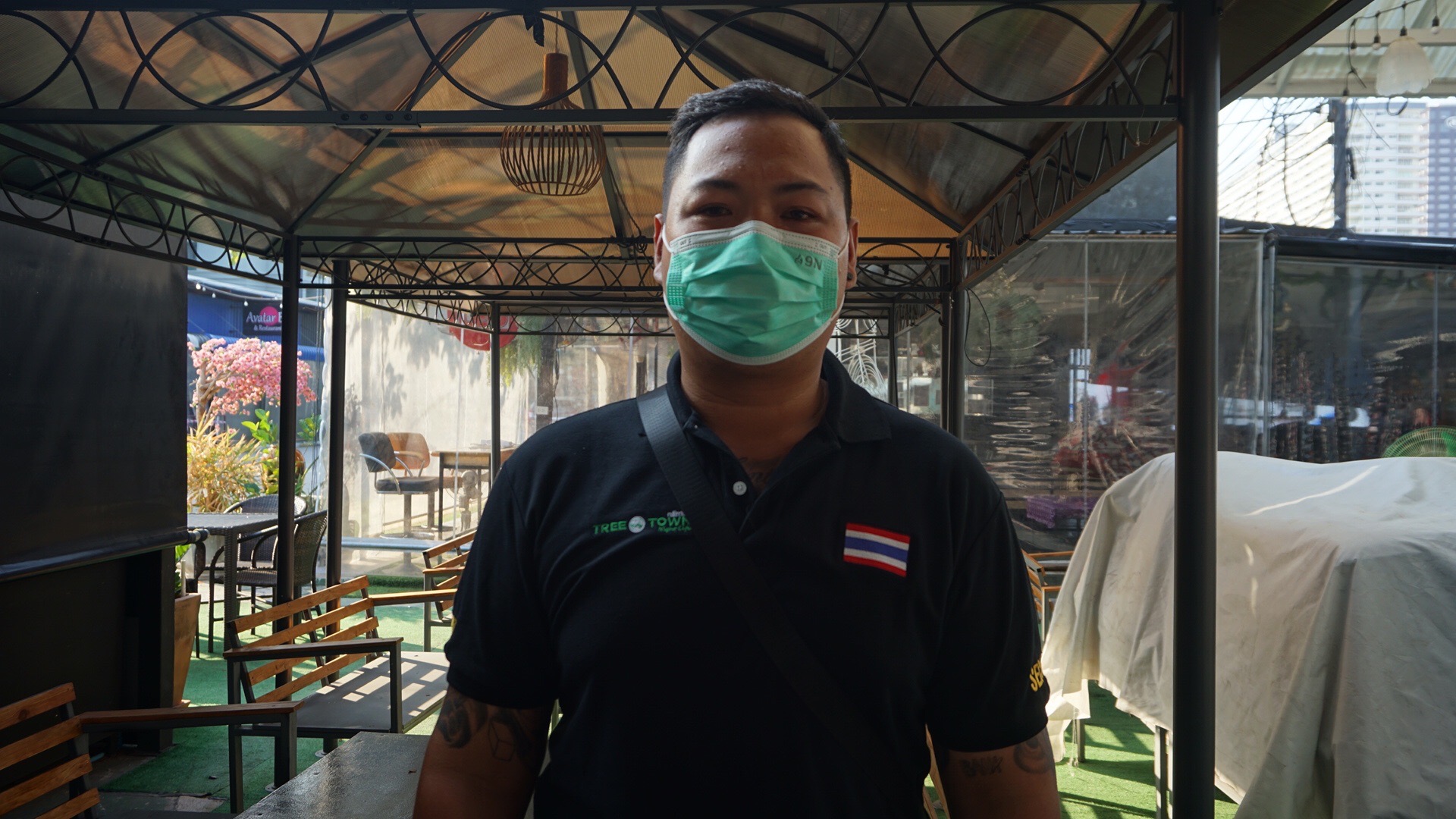 "We have also been providing FREE ATK (rapid Covid-19 antigen) tests before entering the market," Yuttana added, noting that the current Chonburi policy for restaurants that sell alcohol in the area is to conduct Covid-19 testing on customers before entry or for customers to show proof of a certified test taken within 72 hours.
Tree Town market as a whole is closed until Friday, January 21st, a total of three days, while ongoing cleaning takes place. Yuttana added that some parts of the food court area only may be allowed to open from 5:00-9:00 P.M. although TPN media notes mileage may vary on this and that business owners who own and operate venues in the market have told TPN media they were told by market management to close for three days, from January 18th-January 20th.
The Banglamung District Public Health Chief Mr. Kitti Boonrattanet told The Pattaya News, "The number of Covid -19 confirmed cases in Banglamung reached the highest point on January 6th at a total of 1,099 positive cases of Covid-19. After that, the number of confirmed cases decreased due to our proactive case finding and policies such as requiring high-risk venues, like those that serve alcohol, to regularly test both staff and customers."
"We have conducted free active case finding at Tree Town Market and Pattaya Walking Street, as well as a few other areas like Soi 6, from December 3rd to January 5th for a total of 10,000 people. Most discovered cases of Covid-19 are in Nongprue and Pattaya for the Banglamung district and many have been connected to restaurants that sell alcohol or venues that were formerly entertainment venues and have "converted" to temporary restaurants." Kitti explained.
Bars, nightclubs, and entertainment venues have been legally closed since April 10th of 2021, notes TPN media, but recently were given "official" permission from the Center for Covid-19 Situation Administration (CCSA) in Bangkok to convert to temporary restaurants with strict rules until these venues are allowed to legally reopen. Some of the strict (and mostly unpopular, based on social media comments) rules include the aforementioned customer testing for Covid-19 and 9:00 P.M. closing times.
The CCSA was originally planning on evaluating entertainment venues for opening legally on January 16th, however, due to the Omicron Covid-19 variant and fast-spreading breakouts in various parts of Thailand, this reopening has been delayed "until further notice", with CCSA officials declining to give a timeframe or roadmap to bar owners on when they will be given a legal opening. Instead, they offered the temporary conversion to a restaurant as a "middle-ground".
"On January 20th we will conduct FREE active case finding in Soi LK Metro (Soi Bua Khao) in front of Fever Bar. On January 21st we will be at the Tree Town Market from 5:00 P.M. to 9:00 P.M. We want to encourage people to take a test, it is not scary and our staff is well-trained on the process." Kitti concluded.
TPN media notes, however, that much of the reluctance from at least foreign expats and tourists to take the free tests is not the price of the test but the process for what happens if one is positive, which can vary based on a variety of factors.
=-=-=-=-=-=-=-=-=-=-=-=-=-=–=–=–=–==-
Need Covid-19/travel insurance for your trip to Thailand? We can help!