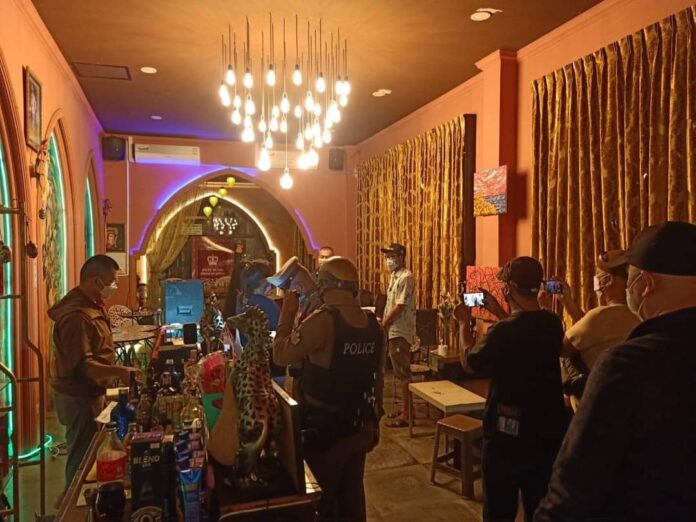 Jomtien/Pattaya-
Pattaya police estimate that roughly over a hundred customers fled last night, many by jumping fences, dashing into traffic, and climbing out of windows during a raid on an art gallery that police claim is actually a nightclub/entertainment venue.
Nightclubs, bars, pubs, and similar venues have been legally closed since early April of 2021 due to Covid-19 precautions. However, with strict Covid19 rules and certifications these venues have recently been allowed to apply to convert to "restaurants" temporarily. Some of the strict rules, however, include a mandatory 9PM closing time, required rapid Covid19 testing of all customers and staff, and many other precautions and rules.
The raid took place at 1030 PM last night, January 13th, 2022, according to Pattaya Police Col. Kullachart Kullachai who personally led the raid on the Ma Ha Na Cafe and Art Gallery on Second Road in Jomtien near Soi 9. This was well after the mandatory 9PM closing time.
According to Col. Kullachart, staff on duty attempted to slow down entry of police to the venue allowing roughly a hundred customers, both Thais and foreign nationals, to flee through a variety of side and back exits, with some reportedly seen climbing over walls, jumping out of windows, and even running into traffic to escape the raid.
Pattaya Police, however, said they were focused on the staff, management, and owner of the venue and not fleeing customers. A person described to the press as the "caretaker" of the venue, who was not immediately named, was arrested and taken to the Pattaya Police station. Police said the venue showed clear signs of looking like a nightclub and allowing alcohol sales and lack of social distancing and other Covid19 rules.
Pattaya police said further legal action will take place, noting this isn't the first time they have raided and warned this particular location. In late December the same location was raided for allegedly breaking Covid-19 rules and being open past the legal closing time, as can be seen below.
https://thepattayanews.com/2021/12/27/art-gallery-cafe-in-jomtien-raided-over-the-holiday-weekend-for-allegedly-holding-a-late-night-christmas-party-acting-as-an-entertainment-venue/
During the prior raid customers also reportedly fled. This is only the latest in what has become nightly raids on "restaurants" allegedly violating the current strict Covid19 rules in the area. The rules are in place due to a significant rise in Covid19 cases in Chonburi and Pattaya since New Year's.
https://thepattayanews.com/2022/01/13/chonburi-led-by-banglamung-with-467-announces-832-new-and-confirmed-cases-of-covid-19-and-one-new-death/
Pattaya Police have warned that if venues do not cooperate they will propose to the Chonburi governor and relevant officials to bring back a hated alcohol sales ban at all restaurants which previously lasted eight months, which would essentially completely shutter "restaurants" once again and unfortunately also penalize regular restaurants.
https://thepattayanews.com/2022/01/13/chonburi-and-pattaya-police-arrest-another-twelve-bar-managers-owners-for-allegedly-violating-closing-time-of-9pm-raids-will-continue/