Chonburi –
An unemployed man died after reportedly shooting his wife and future son-in-law to death before hanging himself during his daughter's birthday party at a home in the Mueang Chonburi district last night (January 12th).
His two daughters, one adult and one a minor, witnessed the entire shocking incident with the younger daughter suffering a bullet wound to her foot.
Police and emergency responders arrived at the house in the Nong Ree sub-district to find three dead bodies. This included Ms. Malee Sangkrajui, 46, and Mr. Eakkachai Pruetipaitoon, 31. Both victims had been shot in the head with a firearm. The body of Mr. Winai Pupakdee, 52, was found hanging from a staircase.
A handgun was found on the second floor. An eight-year-old daughter of Winai, whose name was withheld due to being a minor, had sustained a bullet wound to her foot. She was taken to a local hospital for medical assistance.
Sasinapa Pupakdee, 26, who was not injured, told Mueang Chonburi police the following, "My parents (Ms. Malee and Mr. Winai) were arguing about money. My father had recently become unemployed. We were having a birthday party for myself when the argument began. My father asked me if we wanted to be family and wanted to be together. I said yes. After that, my father took out a handgun suddenly and shot my mother and my boyfriend without warning (Mr. Eakkachai)."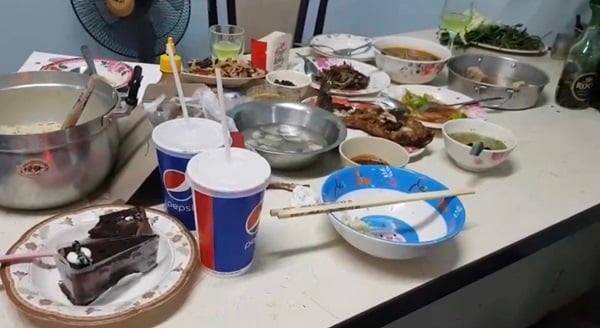 "More gunshots were fired and my younger sister was shot in her foot. I ran away from the house with her, helping her run due to her injury, to ask for help from my neighbor." Sasinapa added.
The neighbor, Mr. Watcharakorn Poejaroen, 36, told Chonburi police, "I let them came into my house before locking the door and calling the police. We hid inside while waiting, afraid that Winai would come after us."
Mueang Chonburi police believe that Winai hung himself while his daughters were taking shelter at the neighbors home. The tragic incident is still under investigation with law enforcement attempting to discover what exactly led to the murder-suicide.
As of this morning, the younger daughter is expected to fully recover from her bullet wound to her foot, although the emotional damage from the incident will last much longer. Mueang Chonburi police stated that psychiatrists will be assisting the survivors.
Are YOU or someone you know suffering from depression, feeling down, or just need someone to talk with? There are people out there who care and want to talk to you. We suggest the Samaritans of Thailand.
=-=-=-=-=-=-=-=-=-=-=-=-=-=–=–=–=–==-