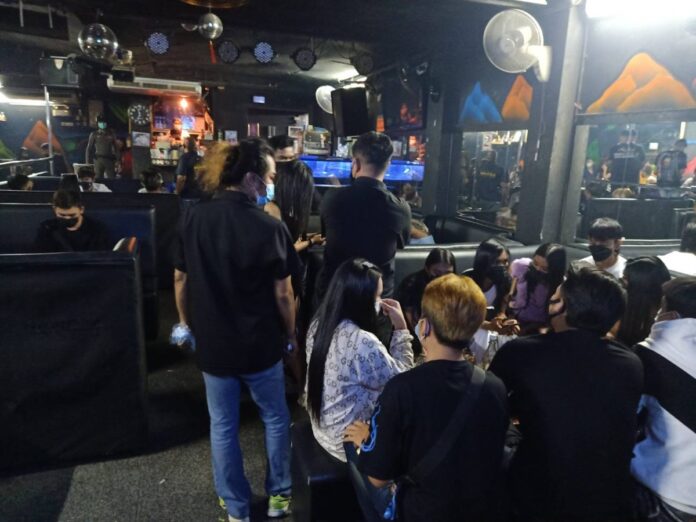 Pattaya, Thailand-
Pattaya police raided a karaoke bar late last night for allegedly breaking Covid-19 rules in the city.
The venue, identified as Jacky Karaoke and located on Soi Chalerm Phrakiat 35 in Nongprue, was raided by a team of Pattaya Police at 11:30 PM last night, January 11th, 2022. The raid was personally led by Pattaya Police Chief Kullachart Kullachai.
The raid came following an anonymous tip from a concerned citizen reportedly afraid the venue could be spreading Covid19.
Inside the venue, officers found more than fifty people, many of them out-of-town domestic tourists according to Pattaya Police, drinking, dancing, and partying without masks or social distancing. Alcohol was reportedly being served and loud music was being played. Police immediately ordered the lights turned on, music turned off, and for patrons to put on masks.
Under current Chonburi Covid-19 rules set by the Chonburi Communicable Disease Committee, all "restaurants" that sell alcohol are to stop serving at 9 PM. Indeed, police have been closing most of them on the dot. Technically, karaoke venues are legally closed and have been since April 10th of last year.
A man identified as a manager of the venue, Panya Ngamsanga, 48, was arrested and brought to the Pattaya City Police station to face legal charges and a further interview. It was not immediately clear if customers were arrested, fined, or faced any penalties. Police also stated that the venue did not seem to be following rules around requiring Covid19 testing with rapid antigen tests of all customers for entry.
The strict new rules are in response to a growing number of Covid-19 cases in Banglamung since New Year's.